Učlanjen(a)

28.03.2012
Poruka

3.067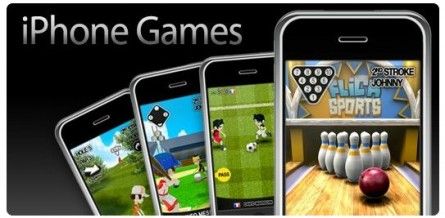 iPhone iPad Games and Apps Collection 01.2013 | 2.14 GB
​
First of all, thanks for checking out my iPod/iPhone Collection.
I created this collection for all ages to enjoy games and use required utility. Their wide range of platforms and genres ensure that everyone can find something they enjoy. Platforms include iPod Nano, iPod Touch, iPhone, iPad, J2ME/MIDP (Cell phones), PC, MAC, and undoubtedly many more.
Enjoy the collection!
How to install:
1. Extract game from archive
2. Open IPA in iTunes
3. Sync to your iPhone/iPod
4. Play!
Note: Requires that AppSync is installed on your iDevice. You can install AppSync via Cydia, from the cydia.hackulo.us repository. These games require that you have iOS 3.0 or later.
List of Content:
2XL TROPHYLITE Rally HD 1.1.5
3Eras HD : Extended 1.0.3
A Little War 1.0
Ants : Mission Of Salvation 1.6
Blueprint 3D HD 2.0
Burn The Corn 1.5
Calculus Pro 3.3
Call of Mini: Brawlers 1.1.1
Cartoon the World! 1.3
Clash of the Olympians 1.1
Dingle Dangle 1.0
Dungeon Lore 1.0
FrameLens - Frame with Multiple Cameras 6.2
Geo Color Snake! 1.11
GoMusic for Google Music? 3.0
Hockey Fight Pro 1.6
Juice Factory - The Original 1.1
KungfuTaxi 2.2.0
LeechTunes 2.1
Light Up Christmas Tree! Winter puzzle. 1.0
MapleStory Live Deluxe 1.3.6
Marble Merge 1.0.1
Might & Magic Clash of Heroes 1.1.0
Movie Clock 5.2
PhotoRemake - Before/After 2.0.2
Pilot's Path 1.1.3
Portabilidade +9 2.0.7
Super Puzzle HD 2.1.2
Tennis in the Face 1.0.3
Tesla's Electric Mist 1.0.6
The Rise of Atlantis Premium 1.0.0
WarCom: Genesis 1.1.2
Download:
Kod:
http://uploaded.net/file/xqqe6rw7/iPhone.iPad.Games.and.Apps.Collection.01.2013.part1.rar
http://uploaded.net/file/igiihq8a/iPhone.iPad.Games.and.Apps.Collection.01.2013.part2.rar
http://uploaded.net/file/0vf2gs3y/iPhone.iPad.Games.and.Apps.Collection.01.2013.part3.rar
http://uploaded.net/file/60xsmxvz/iPhone.iPad.Games.and.Apps.Collection.01.2013.part4.rar

http://rapidgator.net/file/9d86f9e8638d866a6e531e5f8d48fe28/iPhone.iPad.Games.and.Apps.Collection.01.2013.part1.rar.html
http://rapidgator.net/file/a37d18832f8efa8e03f6f65ec0001bb2/iPhone.iPad.Games.and.Apps.Collection.01.2013.part2.rar.html
http://rapidgator.net/file/28787787fb535b4df13b4691fb162d50/iPhone.iPad.Games.and.Apps.Collection.01.2013.part3.rar.html
http://rapidgator.net/file/609e0d0fd7b0e7481d7cb2e5d3e6ad2f/iPhone.iPad.Games.and.Apps.Collection.01.2013.part4.rar.html

https://www.oteupload.com/oxtbcr2ivo8u/iPhone.iPad.Games.and.Apps.Collection.01.2013.part1.rar.html
https://www.oteupload.com/uoqknii5zz4j/iPhone.iPad.Games.and.Apps.Collection.01.2013.part2.rar.html
https://www.oteupload.com/uztivddz1bzu/iPhone.iPad.Games.and.Apps.Collection.01.2013.part3.rar.html
https://www.oteupload.com/3mjy0a46zw8l/iPhone.iPad.Games.and.Apps.Collection.01.2013.part4.rar.html