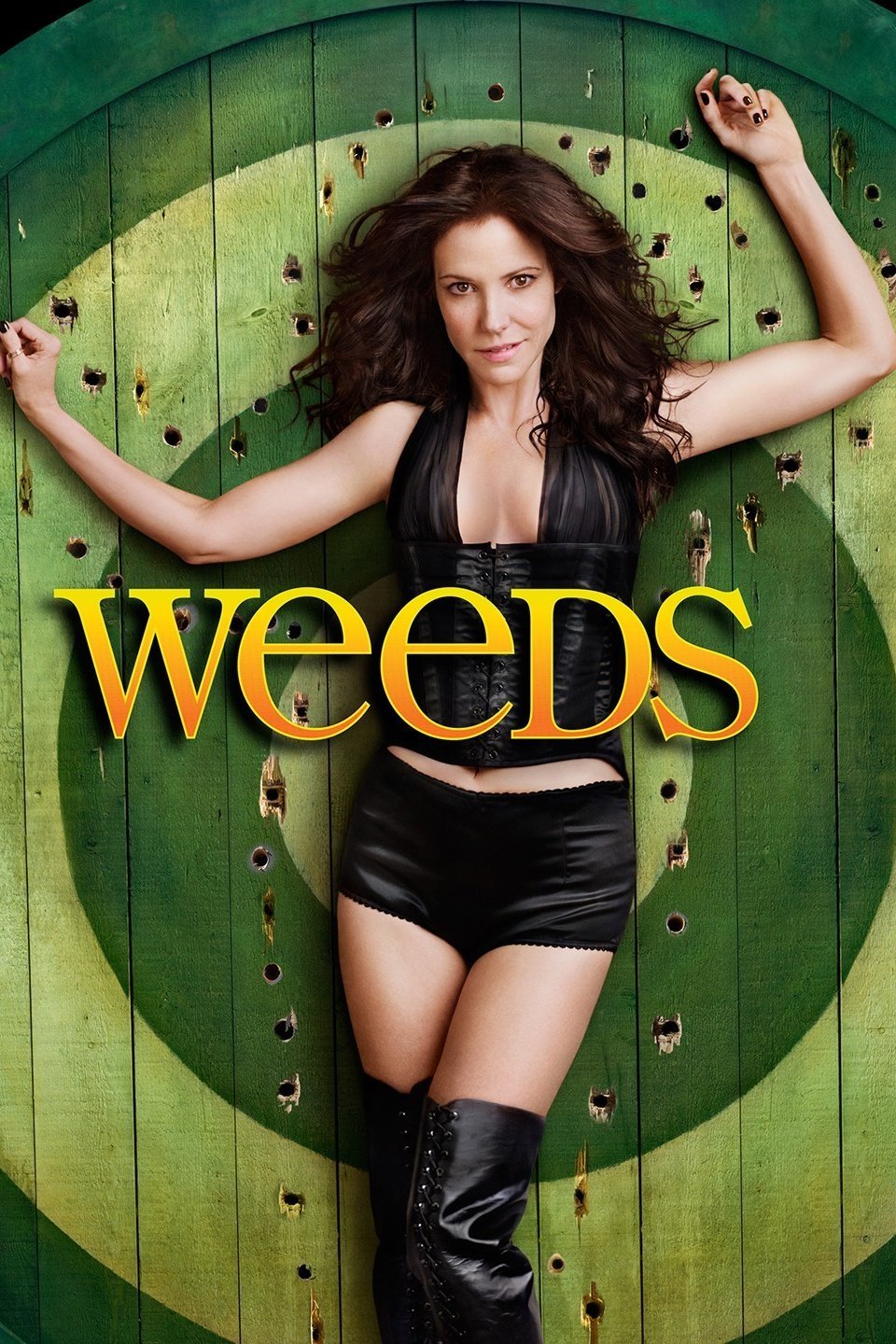 Weeds
is an American
dark comedy-
drama
[1]
[2]
[3]
television series created by
Jenji Kohan
, that aired on
Showtime
from August 7, 2005 to September 16, 2012. Its central character is Nancy Botwin (
Mary-Louise Parker
), a widowed mother of two boys Silas (
Hunter Parrish
) and Shane (
Alexander Gould
), who begins selling
marijuana
to support her family. Other main characters include Nancy's lax brother-in-law Andy Botwin (
Justin Kirk
), who moves in to help raise her children; foolish acquaintance Doug Wilson (
Kevin Nealon
); narcissistic neighbor Celia Hodes (
Elizabeth Perkins
), who lives with her husband Dean (
Andy Milder
) and their daughter Isabelle (
Allie Grant
); as well as Nancy's wholesalers Heylia James (
Tonye Patano
) and Conrad Shepard (
Romany Malco
). Over the course of the series, the Botwin family become increasingly entangled in illegal activity.
The first three seasons are set primarily in the fictional town of Agrestic, California. During seasons
4
and
5
, the Botwins reside in the fictional town of Ren Mar in
San Diego
. In season 6, the family relocates to
Seattle
, Washington and
Dearborn, Michigan
. Between seasons
6
and
7
, Nancy serves a prison sentence in
Connecticut
while her sons and brother-in-law live in
Copenhagen
, Denmark. At the beginning of season 7, Nancy moves into a
halfway house
in New York City, where she reunites with her family. They live in
Manhattan
for the duration of the season, but relocate to
Connecticut
in the season 7 finale and throughout
season 8
.
When the show debuted on the
Showtime
cable network, it earned the channel's highest ratings.
[4]
[5]
In 2012,
TV Guide Network
bought the airing rights and provided an edited version of the show free of charge.
[6]
The show has received numerous awards, including two
Emmy Awards
, two
Satellite Awards
, one
Golden Globe Award
, a
Writers Guild Award
, and a
Young Artist Award
.
In November 2019, it was revealed that a sequel series was in the development at
Starz
, titled
Weeds 4.20
. The series would feature Mary-Louise Parker reprising her role with the story set 10 years after the conclusion of the original series.
Victoria Morrow
is set as the writer, while original series creator Jenji Kohan is not involved
Weeds - Kleine Deals unter Nachbarn: Created by Jenji Kohan. With Mary-Louise Parker, Hunter Parrish, Alexander Gould, Kevin Nealon. When a suburban mother turns to dealing marijuana in order to maintain her privileged lifestyle after her husband dies, she finds out just how addicted her entire...
www.imdb.com
Creator/showrunner Jenji Kohan's hit Showtime satirical drama series told of Nancy Botwin (Mary-Louise Parker), a widowed mother of two boys - Silas and Shane (Hunter Parish and Alexander Gould) - who begins selling marijuana to support her family. Other main characters include Nancy's lax brother-in-law Andy (Justin Kirk) moving in to help raise her children; foolish acquaintance Doug Wilson (Kevin Nealon); narcissistic neighbor Celia Hodes (Elizabeth Perkins), who lives with her husband Dean (Andy Milder) and their daughter Isabelle (Allie Grant); as well as Nancy's wholesalers Heylia James and her son Conrad (Tonye Patano and Romany Malco). Over the course of the show, the Botwin family become increasingly entangled in illegal activity.