Učlanjen(a)

18.10.2009
Poruka

1.287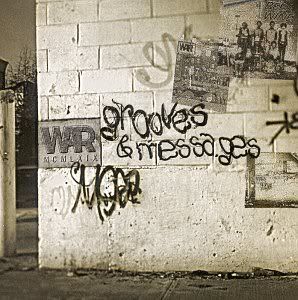 War - Greatest Hits of War 2 Disc set:
@320
War is an eclectic American funk band from California, known for the hit songs "Low Rider", "Spill the Wine" and "Why Can't We Be Friends?". Formed in 1969, War was the first and most successful musical crossover, fusing elements of rock, funk, jazz, Latin music, R&B, and even reggae. The band also transcended racial and cultural barriers with a multi-ethnic line-up. The band's diverse musical influences have made it an enduring influence, one that has sold over 50 million records to date. Although War's lyrics are often socio-political in nature, their music usually had a laid-back,
California funk vibe. The music has been sampled and recorded by many singers and groups, ranging from Janet Jackson to Korn to TLC.
Disc #1
01 War - Spill the Wine.mp3
11 War - Low Rider.mp3
02 War - Tobacco Road.mp3
03 War - All Day Music.mp3
04 War - Slippin' Into Darkness.mp3
05 War - The World Is a Ghetto.mp3
06 War - The Cisco Kid.mp3
07 War - City, Country, City.mp3
08 War - Gypsy Man.mp3
09 War - Me and Baby Brother.mp3
10 War - Why Can't We Be Friends.mp3
12 War - Summer.mp3
13 War - Galaxy 2000.mp3
14 War - Outlaw.mp3
15 War - You Got the Power.mp3
16 War - East L.A.mp3
Kod:
http://rapidshare.com/files/374382173/ghw1.rar