Wake Wood 2011 DVDRip
Info:
Wake Wood (2011) DVDRiP XviD-UNVEiL
Release Group: UNVEiL (Scene)
Release Name: Wake.Wood.2011.DVDRiP.XviD-UNVEiL
Release Date: 2011-03-29
Filename: Wake.Wood.2011.DVDRiP.XviD-UNVEiL.avi
Source: DVD RIP
Size: 699.08 MB
Genre: Drama | Horror | Thriller
Video: 640 x 352 | 977 Kbps | XviD | 25.000 fps
Audio: 144 Kbps | 2 Channel | 48.0 KHz
Subs: N/a
IMDB Rating: 6.5/10 (35 votes) 3 reviews
RT Critics: 6.9/10
Directed By: David Keating
Starring: Eva Birthistle, Ella Connolly and Amelia Crowley
Download: FileServe | FileSonic | FreakShare | Videobb
UNVEiL have released the DVDRip of the horror film, "Wake Wood", produced by Hammer. It's got some pretty good reviews, 89% on Rotton Tomatoes, the movie was in cinemas in 2009, but is finally getting released on DVD!
Plot:
Still grieving the death of their only child Alice at the jaws of a crazed dog, vet Patrick and pharmacist Louise relocate to the remote town of Wake Wood where a local pagan ritual gives them three more precious days with her. but what will they do when it's time for their new daughter to go back?
Screenshots: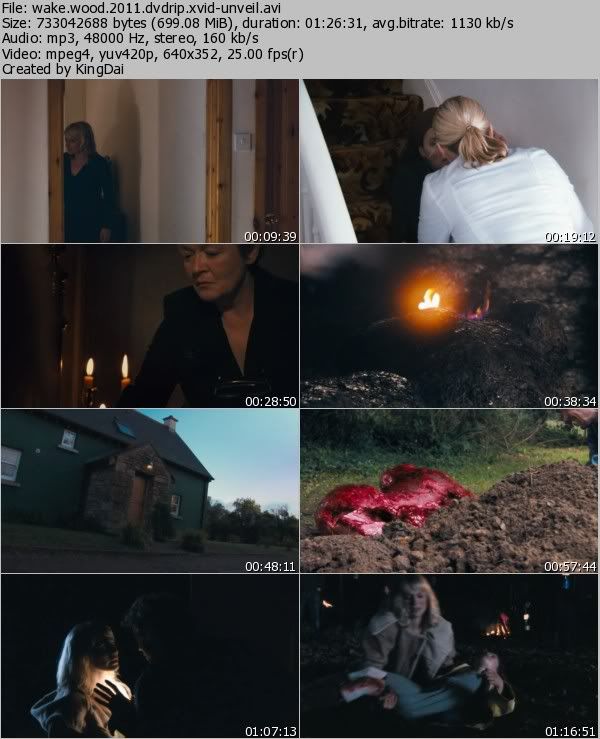 DOWNLOAD:
Kod:
http://www.filesonic.com/file/793947491/Wake Wood 2011 DVDRiP  UNVEiL.part1.rar
http://www.filesonic.com/file/793947621/Wake Wood 2011 DVDRiP  UNVEiL.part2.rar
http://www.filesonic.com/file/793947611/Wake Wood 2011 DVDRiP  UNVEiL.part3.rar
http://www.filesonic.com/file/793947641/Wake Wood 2011 DVDRiP  UNVEiL.part4.rar
http://www.filesonic.com/file/793947591/Wake Wood 2011 DVDRiP  UNVEiL.part5.rar
http://www.filesonic.com/file/793947631/Wake Wood 2011 DVDRiP  UNVEiL.part6.rar
http://www.filesonic.com/file/793947601/Wake Wood 2011 DVDRiP  UNVEiL.part7.rar