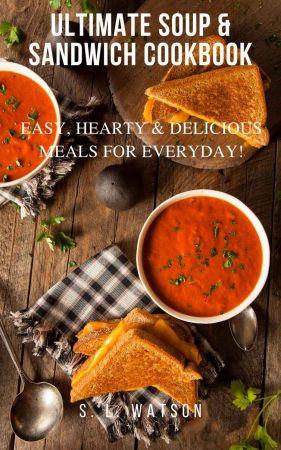 Ultimate Soup & Sandwich Cookbook - Easy, Hearty & Delicious Meals For Everyday! (Southern Cooking Recipes)
Soup & sandwich meals are an all time favorite. I have included an abundance of recipes for vegetable, meatless, beef, ground beef, chicken, turkey, seafood and bean soups along with the perfect sandwiches for your meals. If you love grilled cheese and BLT sandwiches, you will find numerous recipes for your favorites. Sandwiches include all your favorites including beef, pork, ham, bacon, chicken, turkey and a section for meatless and vegetable sandwiches.
Don't think soups and sandwiches are just for the cold winter months. I have included cold sandwiches along with cold soups for those scorching summer days. Soup & sandwich meals take the guess work out of What's For Dinner. For families with different schedules, most soups can be reheated and sandwiches made ahead or when ready to eat. If you don't have time to cook, there are plenty of fuss free soups and sandwiches that can be made in no time.
Hidden content
You need to react to this post in order to see this content.