Učlanjen(a)

01.05.2019
Poruka

93.710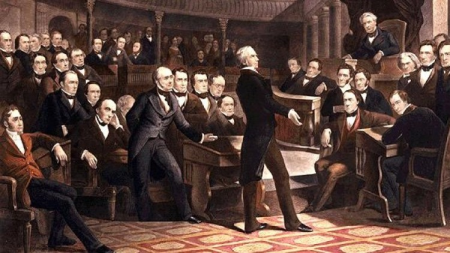 h264, yuv420p, 1920x1080 | ENGLISH, aac, 48000 Hz, 2 channels, s16, | 11h 37 mn | 8.04 GB
Instructor: Intelecom Learning
Analyze the causes, course, and outcome of the Civil War.​
Early Colonization to Reconstruction What you'll learn
Analyze the historical experiences among diverse groups of Americans.
Assess, analyze and discuss the American colonial experience under English rule.
Identify nineteenth century reform movements how they influenced racial relations, gender roles and the social hierarchy.
Explain Manifest Destiny and the consequences of westward expansion.
Analyze the major events and ideas that gave rise to the American Revolution.
Explain why slavery became the dominant labor system in the southern colonies and how it impacted American social, political and economic life.
Requirements
System requirements: PC, laptop or mobile device (with Udemy app) and broadband connectivity.
Course requirements: There are no pre-requisite or other course requirements.
Description
"U.S. History 201" is a comprehensive introduction to United States History from Early Colonization to Reconstruction. This self-paced online course combines the real world immediacy and intimacy of professionally-produced video with the free, open-source, peer-reviewed textbook "U.S. History" from OpenStax College. Hear from noted historians and scholars - including Stephen Aron, Bernard Bailyn, Helena Wall, Estelle Freedman, Samuel H. Beer, Barbara Oberg and others - who together provide a comprehensive and balanced examination of America's rich heritage.
The course covers everything you can expect to see in an introductory college or high school course in United States History:
Early Colonization
Imperial Reforms and Colonial Protests
America's War for Independence
Creating Republican Governments
The Industrial, Market, and Transportation Revolutions
Jacksonian Democracy
Westward Expansion
The Antebellum South
The Civil War
Reconstruction
Enjoy more than 200 professionally-produced and engaging video snts - each approximately three to five minutes in duration - that incorporate subject expert interviews, dramatic recreations, photographs and artifacts, and historic images and illustrations.
U.S. History 201 can be adopted "as is" for use as a complete online course in Early American History, as a quality textbook replacement for existing history courses, or as a media-rich resource for homework and test preparation (e.g. CLEP Exam).
Who this course is for:
Professors of United States History looking to adopt low-cost, media-rich supplemental materials for their students.
Students currently enrolled in (or considering enrolling in) United States History, American History, High School or AP History classes.
Anyone with in an interest in United States History.
DOWNLOAD
nitroflare
Kod:
http://nitroflare.com/view/2772DB9E5850ECA/Pt70N8K3__U.S._Histo.part01.rar
http://nitroflare.com/view/1B213524DC8BB14/Pt70N8K3__U.S._Histo.part02.rar
http://nitroflare.com/view/2EB69CB9DF34452/Pt70N8K3__U.S._Histo.part03.rar
http://nitroflare.com/view/2AA3CCCD1BA9C00/Pt70N8K3__U.S._Histo.part04.rar
http://nitroflare.com/view/3546C8AC006BBF5/Pt70N8K3__U.S._Histo.part05.rar
http://nitroflare.com/view/63078F08A4F229D/Pt70N8K3__U.S._Histo.part06.rar
http://nitroflare.com/view/B972BE0E2BEB002/Pt70N8K3__U.S._Histo.part07.rar
http://nitroflare.com/view/3254748CFB60A31/Pt70N8K3__U.S._Histo.part08.rar
http://nitroflare.com/view/3E7C54F401E5C1A/Pt70N8K3__U.S._Histo.part09.rar