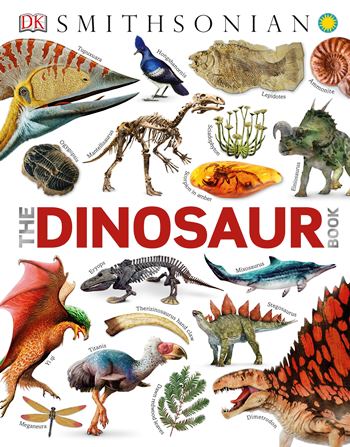 Smithsonian: The Dinosaur Book (DK Smithsonian)
By DK
DK Children | September 2018 | ISBN-10: 9781465474766 | 210 Pages | True PDF | 88.6 mb
https://www.amazon.com/Smithsonian-Dinosaur-Book-Dk/dp/1465474765
Everything you need to know about dinosaurs, pterosaurs, marine reptiles, and mammals in this essential prehistoric encyclopedia for kids.
With more than 1,000 images and fascinating facts, The Dinosaur Book brings young readers face-to-face with some of the most incredible creatures ever to exist. Using a range of full-color images, including spectacular fossilized bones and realistic digital reconstructions, all forms of prehistoric life are covered. Young readers can also find out about the latest scientific discoveries that have changed the way we see these prehistoric animals-from new feathered dinosaurs to how and where.
About DK
DK was founded in London in 1974 and is now the world's leading illustrated reference publisher and part of Penguin Random House, formed on July 1, 2013. DK publishes highly visual, photographic nonfiction for adults and children in more than 87 countries and 62 languages, with offices in Delhi, London, Melbourne, Munich, New York, and Toronto.
DK's aim is to inform, enrich, and entertain readers of all ages, and everything DK publishes, whether print or digital, embodies the unique DK design approach. DK brings unrivaled clarity to a wide range of topics with a unique combination of words and pictures, put together to spectacular effect.
CONTENTS
Foreword 6
Timeline of life 8
Changing planet 10
Types of fossils 12
Fossil finds 14
Origin of life 16
Game-changers 18
Evolution and extinction 20
The vertebrates 22
What is a dinosaur? 24
Inside a dinosaur 26
Before the dinosaurs 28
The age of dinosaurs 58
Dinosaurs take flight 130
Pterosaurs 146
The marine world 156
The rise of mammals 168
Glossary 200
Index 204
Acknowledgments 208
Hidden content
You need to react to this post in order to see this content.