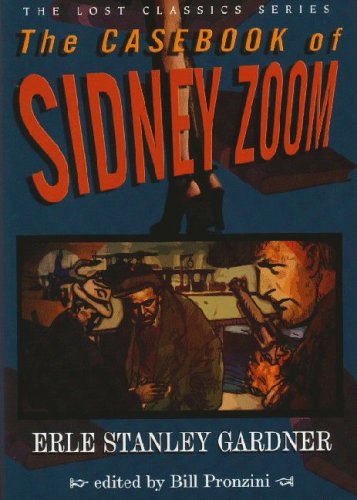 The Casebook Of Sidney Zoom
By Erle Stanley Gardner (edited by Bill Pronzini)
Crippen & Landru Publishers | July 2006 | ISBN-10: 1932009477 | PDF | 247 pages | 42.8 mb
https://www.amazon.com/Casebook-Sidney-Zoom-Lost-Classics/dp/1932009477
"MY NAME IS ZOOM!"
Before he created Perry Mason, Erle Stanley Gardner (1889-1970) was one of the most popular writers for the mystery and adventure pulp magazines, with their sensational covers, two-fisted heroes, and non-stop action. Among his toughest characters was Sidney Zoom, wealthy yacht-owner who prowls at night to help the downtrodden in the days of the Great Depression. "The weak and the helpless found in him a haven of refuge, a gigantic wall of strength. The oppressor found in him a grim enemy, tireless uncompromising, letting no man-made law stand between him and his prey." "His soul craved combat," Gardner writes, "as the soul of many men craves strong drink." The Casebook of Sidney Zoom is the first book-collection of the Zoom stories, and they show Gardner's pulp style at it hard-hitting best. This is the second volume in Crippen & Landru's collections of Erle Stanley Gardner's short stories. The book is edited by the modern master of the private-eye story, Bill Pronzini. The cover illustration is by Juha Lindroos, and the Lost Classics design is by Deborah Miller.
CONTENTS
Introduction by Bill Pronzini 7
Willie the Weeper 9
"My Name is Zoomt» 27
Borrowed Bullets 46
Higher Up. 70
The First Stone 96
The Green Door 123
Cheating the Chair 154
Inside Job 182
Lifted Bait 198
Stolen Thunder 224
Sources 247
http://nitroflare.com/view/FACF6D3B9ED0ACF/The_Casebook_Of_Sidney_Zoom.rar
https://rapidgator.net/file/2a4a301dafab89c359cb27f76dc58014/The_Casebook_Of_Sidney_Zoom.rar.html
...