Učlanjen(a)

11.10.2009
Poruka

56.631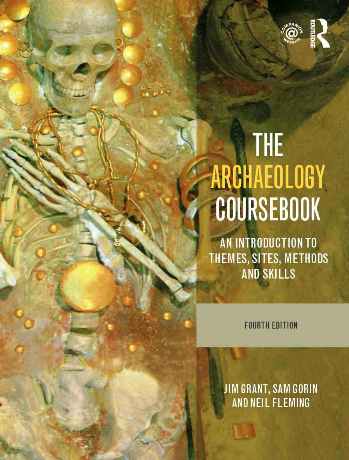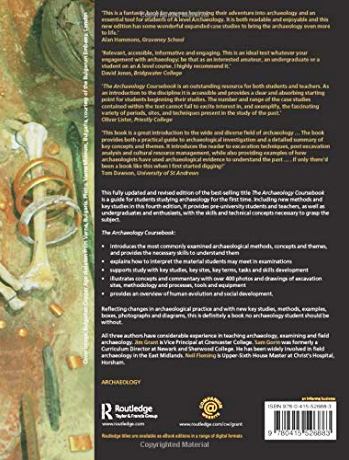 The Archaeology Coursebook: An Introduction to Themes, Sites, Methods and Skills (4th Ed)
By Jim Grant, Sam Gorin and Neil Fleming
Routledge; | October 2015 | ISBN-10: 1138132934 | 692 Pages | PDF | 32.1 mb
https://www.routledge.com/The-Archa...-and/Grant-Gorin-Fleming/p/book/9780415526883
https://www.amazon.com/Archaeology-Coursebook-Introduction-Themes-Methods/dp/1138132934
This fully updated and revised edition of the best-selling title The Archaeology Coursebook is a guide for students studying archaeology for the first time. Including new methods and key studies in this fourth edition, it provides pre-university students and teachers, as well as undergraduates and enthusiasts, with the skills and technical concepts necessary to grasp the subject.
The Archaeology Coursebook:
- introduces the most commonly examined archaeological methods, concepts and themes, and provides the necessary skills to understand them
- explains how to interpret the material students may meet in examinations
- supports study with key studies, key sites, key terms, tasks and skills development
- illustrates concepts and commentary with over 400 photos and drawings of excavation sites, methodology and processes, tools and equipment
- provides an overview of human evolution and social development with a particular focus upon European prehistory.
Reflecting changes in archaeological practice and with new key studies, methods, examples, boxes, photographs and diagrams, this is definitely a book no archaeology student should be without
About the Authors
All three authors have considerable experience in teaching archaeology, examining and field archaeology. Jim Grant is Vice Principal at Cirencester College. Sam Gorin was formerly a Curriculum Director at Newark and Sherwood College. He has been widely involved in field archaeology in the East Midlands. Neil Fleming is Upper-Sixth House Master at Christ's Hospital, Horsham.
CONTENTS
Introduction xxvii
Part I Understanding archaeological resources 1
1 Archaeological reconnaissance 3
2 Archaeological excavation 43
3 Post-excavation analysis and archaeological materials 88
4 Understanding dating in archaeology 142
5 Archaeological interpretation 164
Part II Studying themes in archaeology 189
6 Human origins 191
7 Sites and people in the landscape: settlement archaeology 226
8 Economics A: foraging to farming – the exploitation of plants and animals 293
9 Economics B: extraction, manufacture, material culture and exchange 367
10 People and society in the past 418
11 The archaeology of religion and ritual 504
Part III Issues in world archaeology 563
12 Managing archaeological heritage 565
13 Archaeology and the present: whose past is it anyway? 594
Glossary of terms and abbreviations 629
Bibliography 638
Index 653
TORRENT
Hidden content
You need to react to this post in order to see this content.