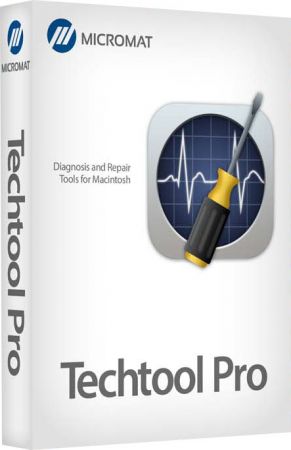 Size:
261.28 MB |
Languages:
N/A
​
Your Macintosh counts on you to keep it running at its best. And other people may count on you to keep their own computers running at their best as well. Whether you're a single user or you support many other Macintosh users at work, you'll want to get the latest version of Techtool Pro. After many, many months of development, we're proud to announce version 14 of the ultimate utility for Macintosh. Shipping now, this is the most feature-rich release of Techtool Pro ever.
Diagnostics and Repair
Start with Check Computer to perform a complete diagnostic check of your Mac and hard drives. A single click of your mouse runs a SMART Check of your hard drive to detect impending drive failure, a RAM test, analysis of disk directories and more. If problems are found, advice is provided on how to proceed to repair the problem. Use Check Computer regularly as a part of your preventive maintenance program. Customize testing using built-in preferences.
Drive Testing and Repair
Techtool Pro will test, rebuild, and repair damaged directories on corrupted Mac OS Extended hard drives, and optimize the data directories when they are repaired. Techtool Pro can also repair Apple's APFS file system, standard Mac OS Extended volumes, as well as MS-DOS (FAT32) and ExFAT formatted volumes. When rebuilding Mac OS Extended volumes, Volume Rebuild will display a comparison chart before directory data is replaced. Use Volume Rebuild to keep your drives operating at their peak performance.
Smarter SMART Check
Hard drives include a technology called SMART (Self-Monitoring, Analysis and Reporting Technology) which can inform a computer about the health of its hard drives. In most utilities, just the overall results - passed or failed - are reported to the user. In the failed state, often there is little or no time to back up data before the drive fails entirely. Previous versions of Techtool Pro reported the overall status of each attribute, but some attributes don't contribute to the failure of a drive. Now, the SMART Check has gotten smarter. Techtool Pro now knows which attributes contribute to drive failure, and will report a failing result before the drive fails completely. Giving you time to rescue your data.
eDrive
Using Techtool Pro, you can easily create an eDrive, an extra startup partition based on the active system volume, which can be used as an emergency startup partition or to perform regular maintenance on your Mac.* The eDrive is based on your specific Macs system and includes Techtool Pro's tools for Mac repair. Using the eDrive, there's no need to reformat or to boot from a DVD or secondary hard drive. If needed, the eDrive's size can be expanded to fit your needs.
Partition Map
Techtool Pro will test and repair hard drive partition maps. The Partition Map test will verify the health of the partition map and the Partition Repair tool will repair any errors found in the partition map.
Memory Test
RAM problems are quite prevalent and can cause a variety of crashes, program errors and even data loss. We've seen many cases where a user will be chasing down a disk or extension problem when their issue was simply a faulty and inexpensively replaced memory module. As part of the RAM test, we've also added an SPD report that shows you an enormous amount of technical and other interesting information about your computer's memory.
Volume Cloning
Volume Cloning creates exact duplicates of your volumes for trouble-free archiving to backup your data and applications. Cloning volumes can also be helpful if you are upgrading from a smaller size hard drive to a larger drive. You have the options of creating a duplicate of an entire disk, file syncing by adding only the changed files to a clone, or cloning to numerous disc image formats. If you have an available drive, you can even use the tool to optimize disks that are especially fragmented.
Volume and File Optimization
Techtool Pro performs both file and volume optimization. File optimization defragments individual files on the hard drive. Volume optimization consolidates the free space on a hard drive. For full optimization, perform Volume Optimization after File Optimization. The resulting optimization simplifies the file storage layout and may enhance the overall performance of your drive.**
Disk Speed
Use Techtool Pro to measure disk speed. Drive manufacturers advertise speeds that may not be realistic for real-world use, depending on the connection used, etc. Find out how your drive actually performs using the Drive Speed tool.
Internet Speed
Use the Internet Speed tool to measure your real-wold internet connection speed. Many speed test websites optimize to give the best speed possible. The Internet speed tool uses the same servers used to host a large percentage of the internet so you can gauge realistic performance.
APFS Snapshot Recovery
Techtool Pro includes data recovery options for APFS volumes. Create longer lasting APFS snapshots that can be used to recover accidentally deleted files, even if a backup is unavailable. Create snapshots automatically using the new Snapshot Usage feature in Techtool Protection, and mount and recover from your snapshots using the Snapshot Recovery tool.
Battery Check Test
Techtool Pro tests internal Mac laptop batteries as well as the batteries in iOS devices. For iOS battery testing, trusted devices can be tested over WiFi as well as through a wired connection.
Data Recovery
Techtool Pro helps you recover your data from corrupted drives or volumes that don't mount on the desktop to save the data to another location.† Use the Trash History feature to track the location of deleted files and increase the chance of their recovery in the case of an accidental deletion. Use the Snapshot Recovery tool to recover data on APFS formatted SSDs from saved snapshots.
Processor Benchmarking
Get an objective measurement of your Mac's processor performance. The Processor Benchmark tool uses industry-standard measurement algorithms to test processor performance. Using this tool, you can get metrics that can be used to compare processor speeds apples-to-apples. Avoids the confusion of comparison using Clock Frequency.
Network and Connectivity Testing
Techtool can test your Bluetooth, Wi-Fi, Ethernet and any other network interface. Troubleshoot problems staying connected to Wi-Fi, or problems connecting to Bluetooth peripherals such as speakers, keyboards, and more
Network Monitoring and Connectivity
Techtool Pro will monitor the configuration of your local area network (LAN) by revealing the active services and ports on each selected machine or Bonjour supported device on your LAN. This information is important for strengthening security on a specific machine, Bonjour supported device or your overall LAN, and is also helpful in tracking what devices have been in use in the past that are no longer available since the last time monitoring was performed.
Protection Preferences
Techtool Pro includes the option to install the Techtool Protection system preference, where you configure automatic functions that operate in the background. In particular, you can configure Protection to track deleted files, monitor the free space on your hard drives, save backups of critical directory data to help with recovery in the event of drive corruption, and to monitor the SMART routines of your hard drives. Checks include scanning for input/output (I/O) errors, power on self-test alerts, battery problems and RAID errors. If problems are found, Protection delivers onscreen and email alerts.
New In Techtool Pro 14:
APPLE SILICON COMPATIBILITY
Techtool Pro 14 is a Universal Mac app, and runs natively on both Apple Silicon* and Intel Macs. Techtool Pro is deeply connected to your Mac's hardware, so nearly every test and tool has been updated to support Apple's latest processor technology.
VOLUME INITIALIZATION
Techtool Pro 14 can now reformat volumes connected to your Mac. Use the Volume Initialization tool to quickly reformat drives as either APFS, Mac OS Extended, or even Ex-Fat or FAT 32.
APP CHECK
Techtool Pro 14 introduces a new tool to quickly inspect your apps to ensure that they full support Apple Silicon, as well as whether they support Apple's latest security features.
LIVE STARTUP DISK REPAIR
Techtool Pro 14 now supports "live" volume repair on your APFS startup volume. Perform volume repairs without restarting to a separate startup disk.
Release Notes- Updated eDrive and TechTool Protogo to use APFS as the volume format for macOS Big Sur users.
- Additional support for iMac (24-inch, M1, 2021) in the Sensors Test and the Processor Check tool.
- Fixed Snapshot Recovery tool to operate as expected when booted from the eDrive.
- Fixed TechTool Protogo to prevent incorrectly displaying unmounted system volumes.
- Fixed the Snapshot Recovery search results window to resize correctly for macOS Big Sur users.
- Fixed Snapshot Recovery to correctly handle localized dates and date formatting.
- Added French, German and Japanese versions of the TechTool Pro 14 PDF manual.
- Added model identification strings for the Check Computer configuration panel.
- Other minor fixes and enhancements.
System Requirements:
- Apple Silicon and Intel-based Macs
- OS X 10.11 or greater, including macOS 11 'Big Sur'
Download from RapidGator
Hidden content
You need to reply to this thread or react to this post in order to see this content.
Download from NitroFlare
Hidden content
You need to reply to this thread or react to this post in order to see this content.