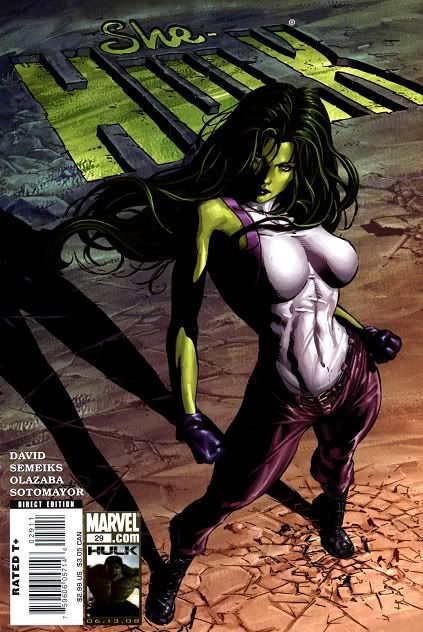 She-Hulk Complete Comics Collection
Size : 1.20 GB
Format : .cbr , .cbz
Genre : Comics
She-Hulk (Jennifer Susan Walters) is a Marvel Comics superheroine. Created by writer Stan Lee and artist John Buscema, she first appeared in Savage She-Hulk #1 (February 1980).
She-Hulk has been a member of the Avengers, the Fantastic Four, Heroes For Hire, Defenders, Fantastic Force, and S.H.I.E.L.D. A highly skilled lawyer, she has served as legal counsel to various superheroes on numerous occasions. Her cousin is Bruce Banner, better known as The Incredible Hulk.
There are rar files with extension changed to view in CDisplay, a free comic book viewer. Just google search for CDisplay and you will get the links to download it.
Contains :
1980 v1 Savage
1989b The Sensational She-Hulk in Ceremony
Sensational She-Hulk
She-Hulk v1
She-Hulk v2
2002_05 Thing She-Hulk - The Long Night
Marvel Graphic Novel 18 - The Sensational She-Hulk
Contains 130 Issues
Link :
Kod:
https://rg.to/file/dc5e6882f987b6cf4ee4eeb2df170ea7
https://rg.to/file/06ac2f4f723d1df114ae327a3fb0b953
https://rg.to/file/1dc31c51ec8ceb80b6093ccdf6ac3da8
https://rg.to/file/f72b41562874fc4ada35a6b8ec311ebb
https://rg.to/file/e88d0d7fb4aee062b5c9101da8857df8
https://rg.to/file/e5d86336ade23a8b52c75edcccc6ea48
https://rg.to/file/a0e57f85c0f819b99d0da49afc4656b7