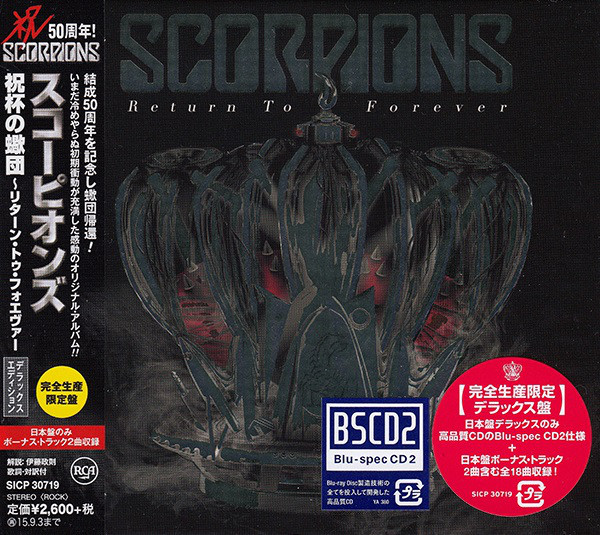 The Japanese version of the eighteenth in a row studio album of German rock legends Scorpions. The album was released on February 20, 2015. In working on the material for the record, the musicians used demos and lessons of past years. The album also includes the single We Built This House.
Scorpions was founded in Germany in 1965 and is one of the most famous rock bands in the world. The most popular hits are "Rock You Like a Hurricane", "Send Me an Angel", "No One Like You", "Wind of Change" and "Still Loving You". The team is considered one of the most commercially successful; in total, their records in the world have sold over 100 million copies. Channel VH1 put the Scorpions on the 46 position in the ranking of the "greatest performers of hard rock." In 2010, the group began a farewell tour, after which the team planned to stop actively speaking and coming to grips with arranging previously unpublished songs from the period of the 80s and 90s.
Genre
: Hard-Rock , Classic-Rock
Year of publication
: 2015 |
Country of performer (group)
: Germany |
Publisher (label)
: RCA / SevenOne MUSIC / Sony
Audio
Codec : MP3 |
Rip type
: tracks |
Bitrate audio
: 320 kbps
Duration
: 01:11:06 |
Availability of scans in the distribution content
: yes
Official Website
Tracklist License
:
01. Going Out With A Bang
02. We Built This House
03. Rock My Car
04. House Of Cards
05. All For One
06. Rock'n'Roll Band
07. Catch Your Luck And Play
08. Rollin 'Home
09. Hard Rockin' The Place
10. Eye Of The Storm
11. The Scratch
12. Gypsy Life
13. Bonus Track
14. Dancing With The Moonlight ( Bonus Track
15. When The Truth Is A Lie (Bonus Track)
16. Who We Are (The Bonus Track)
17. One And One Is The Three (Only Japan Bonus Track)
18. Crazy Ride (Only Japan Bonus Track)
TORRENT
Hidden content
You need to react to this post in order to see this content.