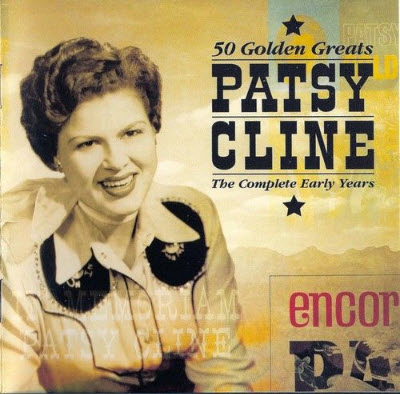 Patsy Cline - 50 Golden Greats: The Complete Early Years (2006)
2CD | EAC-Rip | FLAC-tracks +cue +log +Booklet/SCANS | March 28, 2006 | 675,34 Mb
Genre: Country | RAR 3% Rec. | Label: Empire Musicwerks
​
Patsy s recording career lasted from 1956 to 1963 and was divided between two record labels - Four Star and Decca, the switch occurring in 1960. Most of her success came with Decca but this collection focuses on the Four Star recordings, for which this is the best ever released, containing every song she ever recorded for the label, superbly re-mastered. There are extensive liner notes including session details for these recordings, even including an outline of her career with Decca. The style of Patsy s music on Four Star was solidly traditional country with none of the strings that were used on her Decca recordings.
Patsy s only hit during her time with Four Star was Walking after midnight, a song that Patsy later re-recorded for Decca. Part of the reason for Patsy s limited success (and the main reason that she eventually left Four Star) was that she was only allowed to record songs for which the record label held the publishing copyright. Despite this limitation, there are many excellent songs here.
Apart from Walking after midnight, the most famous original song here is the classic ballad, Just out of reach, a song that has often been covered by country, pop and soul singers. Now, why wasn t Patsy s recording a hit? Among the other great songs here are Pick me up on your way down, A poor man s roses (later covered by Reba McEntire, a huge fan of Patsy s music), In care of the blues and Come on in.
Towards the end of Patsy s contract with Four Star, the label relented and she was able to record some other songs including covers of Lovesick blues, Life s railway to heaven and Just a closer walk with thee. It was too late. Patsy moved to Decca and suddenly became a major star by recording some of the best original songs available.
Tracklist:
CD1
1. Hidin Out (2:29)
2. Turn The Cards Slowly (2:12)
3. A Church, A Courtroom, And Then Goodbye (3:04)
4. Honky Tonk Merry - Go - Round (2:22)
5. I Love You Honey (2:18)
6. Come On In (2:03)
7. I Cried All The Way To The Altar (2:24)
8. Stop, Look And Listen (2:22)
9. I ve Loved And Lost Again (2:34)
10. Dear God (2:29)
11. He Will Do For You (2:18)
12. Walkin After Midnight (2:33)
13. The Heart You Break May Be Your Own (2:33)
14. Pick Me Up On Your Way Down (2:17)
15. A Poor Man s Roses (2:44)
16. Today, Tomorrow And Forever (2:38)
17. Fingerprints (2:48)
18. A Stranger In My Arms (2:27)
19. Don t Ever Leave Me (2:26)
20. Try Again (1:58)
21. Too Many Secrets (2:18)
22. Then You ll Know (3:11)
23. Three Cigarettes In An Ashtray (2:16)
CD2
1. That Wonderful Someone (2:31)
2. In Care Of The Blues (2:35)
3. Hungry For Love (2:30)
4. I Can t Forget (2:27)
5. I Don t Wanta (2:21)
6. Ain t No Wheels On This Ship (1:55)
7. Stop The World (2:28)
8. Walking Dream (2:18)
9. Cry Not For Me (2:30)
10. If I Could See The World (2:54)
11. Just Out Of Reach (2:30)
12. I Can See An Angel (2:23)
13. PCome On In (1:52)
14. Let The Teardrops Fall (2:35)
15. Never No More (2:34)
16. PIf I Could Only Stay Asleep (2:38)
17. I m Moving Along (2:06)
18. I m Blue Again (2:10)
19. PLove Me, Love Me Honey Do (2:04)
20. Yes I Understand (2:48)
21. Gotta Lot Of Rhythm In My Soul (2:21)
22. Life s Railway To Heaven (2:52)
23. Just A Closer Walk With Thee (2:49)
24. Lovesick Blues (2:19)
25. PHow Can I Face Tomorrow (2:16)
26. PThere She Goes (2:25)
27. Crazy Dreams (2:31)
Download:

Kod:
[B]Hotfile[/B]
http://hotfile.com/dl/65960914/d32ece7/10AAAyXX.part1.rar.html
http://hotfile.com/dl/65960915/fc16935/10AAAyXX.part2.rar.html
http://hotfile.com/dl/65961469/4a0dfb4/10AAAyXX.part3.rar.html
http://hotfile.com/dl/65962047/0087461/10AAAyXX.part4.rar.html
http://hotfile.com/dl/65962193/7481558/10AAAyXX.part5.rar.html
http://hotfile.com/dl/65962542/a3fb157/10AAAyXX.part6.rar.html
http://hotfile.com/dl/65962544/517428b/10AAAyXX.part7.rar.html

[B]Fileserve[/B]
http://www.fileserve.com/file/5fNkdWM/10AAAyXX.part1.rar
http://www.fileserve.com/file/rpjJYMz/10AAAyXX.part2.rar
http://www.fileserve.com/file/Yy3R4nm/10AAAyXX.part3.rar
http://www.fileserve.com/file/Se4Ef9s/10AAAyXX.part4.rar
http://www.fileserve.com/file/c3GPbHx/10AAAyXX.part5.rar
http://www.fileserve.com/file/Fh3qQBa/10AAAyXX.part6.rar
http://www.fileserve.com/file/WYgFhuz/10AAAyXX.part7.rar