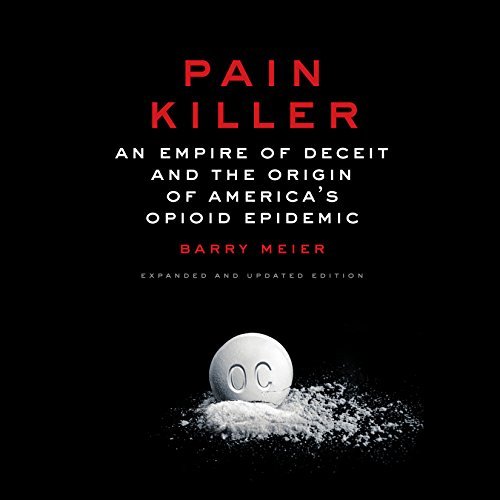 Pain Killer: An Empire of Deceit and the Origin of America's Opioid Epidemic [Audiobook] by Barry Meier
English | May 29th, 2018 | ASIN: B07D9PVLY6 | MP3@64 kbps | 6 hrs 42 mins | 184.58 MB
Narrator: Ray Porter
OxyContin, a potent painkiller containing opium-derived oxycodone as its key active ingredient, was first sold in 1996 as a treatment for cancer patients and other chronic pain sufferers. From the start, the drug's manufacturer aggressively marketed its patented time-release formula as a breakthrough in the effort to reduce prescription drug abuse. It wasn't long, however, before thrill-seeking teenagers shattered that illusion of safety; by simply crushing an "Oxy," they were able to tap into a high so seductive it would come to dominate their lives. Some patients, seeking relief from pain, also found themselves drawn to the drug's dark side.
Pain Killer takes listeners on a journey of discovery that begins with the true story of Lindsay, a high-school cheerleader in Virginia who gets hooked on Oxys, and expands outward to explore the critical issues of legitimate pain management, prescription drug abuse, and how the misuse of science by the drug industry threatens the public good. With the fast-rising abuse of prescription drugs by young people ringing alarm bells within government, the how and why behind the OxyContin disaster is a gripping listen not only for parents, but also for medical professionals, community leaders, business executives, and all those concerned with this crisis.
The dangers described in Pain Killer also reverberate far beyond the threat from a single drug at a particular moment in time. The focus of our government's war on drugs has clearly misled many of us into thinking that only illegal drugs smuggled from beyond our borders can be abused. As Meier tells the dramatic story, some of the most deadly substances are produced and sold legally right here at home.
Kod:
http://nitroflare.com/view/72B24935890E5FA/Pain_Killer_%28Audiobook%29.rar
Kod:
https://rapidgator.net/file/b681fe9d16edfa0e291b36c8a9741bdc/Pain_Killer_(Audiobook).rar.html