Učlanjen(a)

15.03.2010
Poruka

18.349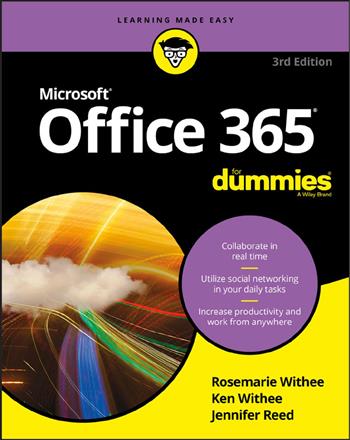 Office 365 For Dummies (3rd Ed)
by Rosemarie Withee, Ken Withee & Jennifer Reed
For Dummies | October 2018 | ISBN-10: 1119513359 | 320 Pages | True PDF | 26.5 mb
Kod:
https://www.amazon.com/Office-365-Dummies-Computer-Tech/dp/1119513359
Everything you need to get productive in the Cloud with Office 365
With 70 million users worldwide, Microsoft Office 365 combines the familiar Office desktop suite with cloud-based versions of Microsofts next-generation communications and collaboration services. It offers many benefits including security, reliability, compatibility with other products, over-the-air updates in the cloud that don't require anything from the user, single sign on for access to everything right away, and so much more.
Office 365 For Dummies offers a basic overview of cloud computing and goes on to cover Microsoft cloud solutions and the Office 365 product in a language you can understand. This includes an introduction to each component which leads into topics around using each feature in each application.
Get up to speed on instant messaging
Use audio, video, and web conferencing
Get seamless access to the Office suite with Office Web apps
Access information anywhere, anytime
Office 365 is the key to office productivity and now you can put it to use for you!
About the Authors
Rosemarie Withee is President of Portal Integrators and Founder of Scrum Now with office in Seattle, WA and Laguna, Philippines.
Ken Withee is a Microsoft Certified Technology Specialist in SharePoint, SQL Server, and .NET.
Jennifer Reed is a Microsoft Certified Professional in Office 365 Administration and founder of Cloud611.
CONTENTS
Introduction. 1
Part 1: Keeping Up with the Cloud Computing Environment. 5
CHAPTER 1: Understanding Cloud Computing and the Current Threat Landscape . 7
CHAPTER 2: Moving to the Office 365 Cloud. 25
Part 2: Communicating with Exchange Online. 41
CHAPTER 3: Unleashing the Power of Exchange Online . 43
CHAPTER 4: Being Productive, Staying Secure. 53
Part 3: Exploring SharePoint Online. 67
CHAPTER 5: Collaborating Effectively Anytime, Anywhere . 69
CHAPTER 6: Going Beyond Websites with SharePoint and OneDrive for Business. 81
CHAPTER 7: Integrating the Mobile Experience. 97
CHAPTER 8: Demystifying SharePoint Online Administration. 111
CHAPTER 9: Customizing SharePoint Online. 129
Part 4: Diving into Office Online. 141
CHAPTER 10: Introducing Office Online . 143
CHAPTER 11: Getting into Word Online .151
CHAPTER 12: Getting into Data with Excel Online and Power BI . 161
CHAPTER 13: Presenting Like a Pro with PowerPoint Online . 175
CHAPTER 14: Staying on Top of Things with OneNote Online . 183
Part 5: Using the Right Tool for the Right Purpose. 193
CHAPTER 15: Supercharging Your Team with Microsoft Teams. 195
CHAPTER 16: Choosing the Right Collaboration Tool. 207
Part 6: Preparing to Move. 213
CHAPTER 17: Meeting Office 365
Requirements
. 215
CHAPTER 18: Planning for Your Office 365 Implementation. 223
CHAPTER 19: Implementing Office 365. 237
CHAPTER 20: Administering Office 365. 249
Part 7: The Part of Tens. 263
CHAPTER 21: Ten Signs Its Time for You to Move to Office 365. 265
CHAPTER 22: Ten Office 365 Value Propositions. 271
CHAPTER 23: Ten Tips for Increasing Productivity with Office 365 . 279
Glossary. 289
Index. 293
Kod:
http://nitroflare.com/view/EA588D7E7962722/Office_365_For_Dummies_(3rd_Ed).rar
Kod:
https://rapidgator.net/file/0dc280cfcc4a881e00f3d9de83f9044f/Office_365_For_Dummies_(3rd_Ed).rar.html
...