Učlanjen(a)

28.03.2012
Poruka

3.059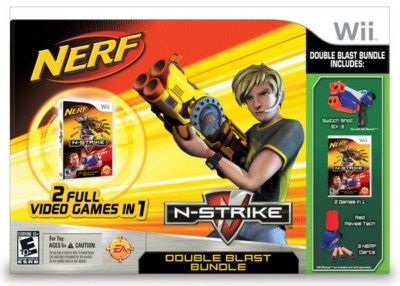 NERF Double Blast (SN2E69) NTSC WII-WBFS
English | Platform: Wii | Release: November 29, 2010 | Publisher: Electronic Arts | Developer: Electronic Arts | 1.428 GB
Genre: Action / Shooter
​
The Search for the N-Strike Elite Begins... Through the din of a popular arcade, one player has emerged as the best N-Strike gamer his friends have ever seen. But even as Shane smashes through the game's record, something far more mysterious is happening: his success is being tracked and recorded. Shane is the perfect candidate for an ultra-exclusive invitation to become an N-Strike Elite. Later that night, he's awakened to find the Nomad C Series Recruitment bot hovering silently over his bed. "B.O.B." has a challenge for Shane. Join the quest to become an Elite Striker and he'll have access to Top Secret Blasters. It's all the incentive Shane needs, and as the one controlling Shane, it's your opportunity of a lifetime.
With NERF: N-Strike Elite players launch themselves into battle in an action-packed rail shooter, a game where the path of action is laid out for the player to follow. Players assume the role of one of four playable characters, each with their own unique customizable selection of blasters and abilities, and also have access to the full list of 16 blasters as unlockable items. For those who find themselves in a melee that requires back-up, NERF: N-Strike Elite also includes a two-player co-op mode, allowing buddies to immediately jump in and join the crusade when the want and the need arises. Players also interact with a veritable army of robots including B.O.B., the same recruiting robot from the first NERF N-Strike game.
Game Features
Nerf N Strike
* Blast your way through a Nerf research facility to become an elite N-Strike officer
* Move through and compete in 4 increasingly difficult chambers with over 20 missions
* Supports head to head and cooperative play up to 4 players NERF N Strike Elite
* Red Reveal Tech allows players to see hidden messages, find secret paths, special unlocks and expose enemy weak spots
* Blasters can be upgraded and customized giving you thousands of variations
* You battle a new army of robots - including BOB, who has been rebuilt and is much tougher
* Multiplayer: Supports 2 player cooperative play
* Four playable characters each with unique blasters and special abilities
Requires NERF Switch Shot EX 3 Blaster Peripheral
NERF Switch Shot EX-3 blaster allows players to insert the Wii Remote (sold in stores) into the chamber of the blaster for in-game play or convert back to a regular blaster for classic NERF play (three NERF darts are also included in the bundle). Additionally, using the attachable / detachable Red Reveal decoder lens, players can visually identify enemy weak spots in-game, solve puzzles and decode secret messages.
Region : NTSC
Format : WBFS
The game file in this torrent is in WBFS format so it can be easily added to a HDD!
Install to Drive, or convert to full ISO for disk burning using "WiiBackupManager"
Screenshots
Download link:
Kod:
http://rapidgator.net/file/eb4d674128892c8f420897233bb21573/NERF.Double.Blast.SN2E69.NTSC.WIIWBFS.part1.rar.html
http://rapidgator.net/file/f69d3d0306cbc0ac57779bf4bd469855/NERF.Double.Blast.SN2E69.NTSC.WIIWBFS.part2.rar.html
http://rapidgator.net/file/0f96ce40317db4164adbd36dd12dedb3/NERF.Double.Blast.SN2E69.NTSC.WIIWBFS.part3.rar.html

http://uploaded.net/file/asv7dw17/NERF.Double.Blast.SN2E69.NTSC.WIIWBFS.part1.rar
http://uploaded.net/file/chxh96kr/NERF.Double.Blast.SN2E69.NTSC.WIIWBFS.part2.rar
http://uploaded.net/file/wigrenao/NERF.Double.Blast.SN2E69.NTSC.WIIWBFS.part3.rar

https://www.oteupload.com/peay84r32me5/NERF.Double.Blast.SN2E69.NTSC.WIIWBFS.part1.rar.html
https://www.oteupload.com/akokfjr004np/NERF.Double.Blast.SN2E69.NTSC.WIIWBFS.part2.rar.html
https://www.oteupload.com/pn7kyezm1f12/NERF.Double.Blast.SN2E69.NTSC.WIIWBFS.part3.rar.html

http://dizzcloud.com/dl/164jw13/NERF.Double.Blast.SN2E69.NTSC.WIIWBFS.part1.rar
http://dizzcloud.com/dl/164jw10/NERF.Double.Blast.SN2E69.NTSC.WIIWBFS.part2.rar
http://dizzcloud.com/dl/164jw11/NERF.Double.Blast.SN2E69.NTSC.WIIWBFS.part3.rar