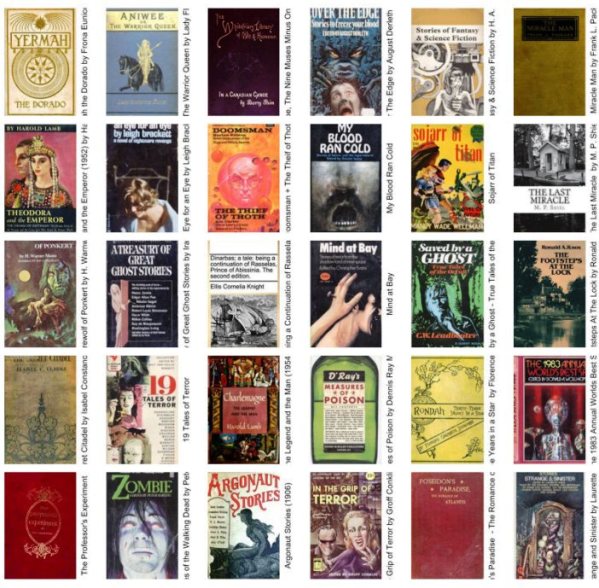 My 40 Books - October 2019
40 Books | PDF | English | 484 MB
A collection of 40 books in PDF format with OCR & covers.
19 Tales of Terror by Whit and Hallie Burnett (Ed)
A Treasury of Great Ghost Stories by Ira Peck (Ed)
An Eye for an Eye by Leigh Brackett
Aniwee; or, The Warrior Queen by Lady Florence Dixie
Argonaut Stories (1906) by Jerome Hart (Ed)
Better Days or, a Millionaire of Tomorrow
Beyond the Gates by Elizabeth Stuart Phelps
Ccmstantinople - Birth of an Empire by Harold Lamb
Charlemagne - The Legend and the Man (1954) by Harold Lamb
Dinarbas; A Tale - Being a Continuation of Rasselas, Prince of Abissinia
Doomsman + The Theif of Thoth
Genghis Khan - The Emperor of All Men (1927)
In a Canadian Canoe, The Nine Muses Minus One and Other Stories
In The Grip of Terror by Groff Conklin (Ed)
Measures of Poison by Dennis Ray McMillan
Mind at Bay - Eleven Horror Stories
My Blood Ran Cold by Donald Speed (Ed)
Over The Edge by August Derleth (Ed)
Poseidon's Paradise - The Romance of Atlantis
Rondah, or, Thirty-three Years in a Star by Florence Carpenter Dieudonne
Saved by a Ghost - True Tales of the Occult
Sojarr of Titan (1941) by Manly Wade Wellman
Stories of Fantasy & Science Fiction by H. A. Cartledge (Ed)
Stories Strange and Sinister by Laurette Pizer (Ed)
Tales for Christmas Eve by Rhoda Broughton
The 1983 Annual Worlds Best SF
The City and the Tsar Peter the Great and the Move to the West 1648-1762
The Footsteps At The Lock by Ronald A. Knox
The Last Miracle by M. P. Shiel
The Man from UNCLE (graphic)
The Miracle Man by Frank L. Packard
The No-sided Professor, and other Tales of Fantasy, Humor, Mystery, and Philosophy
The Professor's Experiment
The Secret Citadel by Isabel Constance Clarke
The Werewolf of Ponkert by H. Warnwe Munn
Theodora and the Emperor (1952) by Harold Lamb
Who Gave You the Epsilon and Other Tales of Mathematical History
Wonders of Space Travel (1954)
Yermah the Dorado by Frona Eunice Wait
Zombie - Stories of the Walking Dead by Peter Haining (Ed)
Hidden content
You need to react to this post in order to see this content.
Hidden content
You need to react to this post in order to see this content.