Man With the Gun (1955)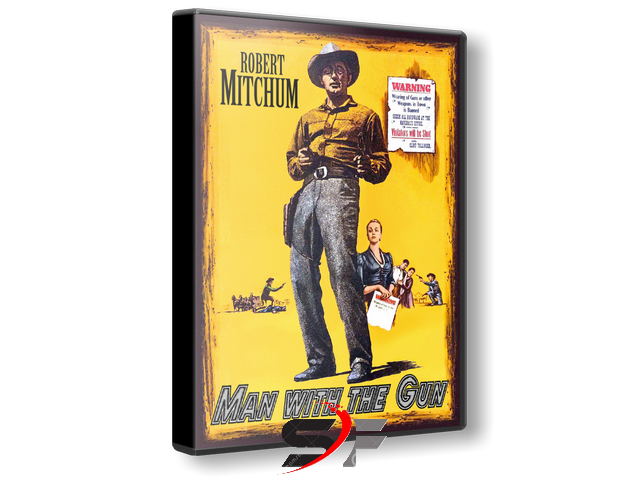 For $500, the worried townspeople of the once-peaceful town of Sheridan hesitantly enlist the help of the taciturn "town tamer", Clint Tollinger, to clean up their small frontier community. But, his reputation precedes him--and as the murderous henchmen of the corrupt rancher, Dade Holman, terrorise the dusty town without interruption--it seems that Clint has his work cut out for him. More and more, the defenceless townsfolk find themselves under the thumb of the ruthless cattle baron; however, sometimes, the cure is worse than the disease. Is the man with the gun up to the task?

Režiser: Richard Wilson

Uloge: Robert Mitchum, Jan Sterling, Karen Sharpe
​
Robert Mitchum is Clint Tollinger, a professional town tamer. He seeks out wild Western towns where the residents want law and order, but aren't brave enough to fight for it.


He finds just such a situation in Sheridan City, where Dade Holman rules, even though he rarely sets foot in town. He lets his gunmen, led by Ed Pinchot (Leo Gordon), and his business associates, like saloon owner Frenchie Lescaux (Ted de Corsia), handle the day-to-day details of keeping the townsfolk under his thumb.

But Tollinger finds more than a town to tame in Sheridan City. He finds his former love, Nelly Bain (Jan Sterling). They had a daughter together before Nelly tired of wondering whether Tollinger would be killed each night and became a businesswoman, organizing her own little group of saloon girls. Now Tollinger has tracked her down, trying to learn what became of that daughter.

The other occupants of Sheridan City include a headstrong young man named Jeff Castle, the one man willing to stand up to Holman; his girlfriend Stella Atkins, who also shows more than a passing interest in the handsome Tollinger; and her father Saul Atkins, who convinces the town council to spend $500 to hire Tollinger's guns.

After a couple of killings and a burned down saloon, they begin to wonder if they haven't made a mistake.​
Poslednja izmena: