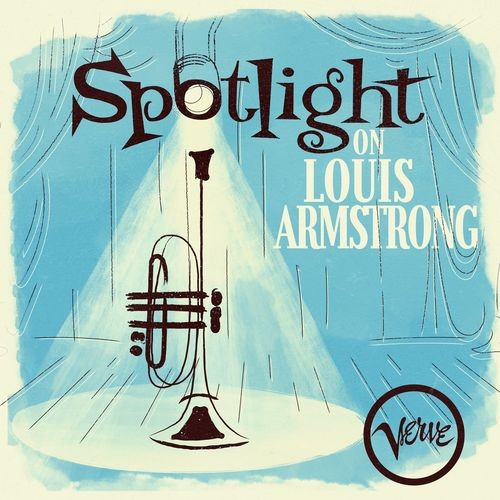 Info:
Artist: Louis Armstrong
Album: Spotlight on Louis Armstrong
Year: 2021
Genre: Jazz
Format/Quality: .mp3 320 kbps

Tracklist:
01. Let's Fall In Love
02. A Kiss To Build A Dream On (Single Version)
03. On The Sunny Side Of The Street
04. When You're Smiling (The Whole World Smiles With You)
05. Ain't Misbehavin'
06. I'm In The Mood For Love
07. Dream A Little Dream Of Me
08. La vie en rose (Single Version)
09. C'est si bon
10. Blueberry Hill (Single Version)
11. I Only Have Eyes For You
12. That Old Feeling
13. I Cover The Waterfront
14. When It's Sleepy Time Down South
15. Struttin' With Some Barbeque
16. Basin Street Blues
17. Cheek To Cheek
18. East Of The Sun (West Of The Moon)
19. I've Got The World On A String
20. What A Wonderful World
21. Summertime
22. That Lucky Old Sun (Just Rolls Around Heaven All Day) (Single Version)
23. Ev'ntide (Single Version)
24. When The Saints Go Marching In
25. Hear Me Talkin' To Ya (Single Version)
26. Life Is So Peculiar
27. Let's Call The Whole Thing Off
28. It Takes Two To Tango (Single Version)
29. You Go To My Head
30. Would You Like To Take A Walk?
31. The Gypsy
32. Marie
33. Hello, Dolly!
34. Old Man Mose
35. Swing That Music
36. Jeepers Creepers
37. Lazy River
38. It's Been A Long, Long Time
39. Cabaret (Single Version)
40. My Bucket's Got A Hole In It
41. Perdido Street Blues
42. Jubilee (Single Version)
43. (Back Home Again In) Indiana (Live 1955 Crescendo Club)
44. A Fine Romance
45. You Rascal You (I'll Be Glad When You're Dead)
46. It Ain't Necessarily So
47. Body And Soul
48. Let's Do It (Let's Fall In Love)/Blues In The Night
49. Groovin'
50. Stompin' At The Savoy
Hidden content
You need to react to this post in order to see this content.