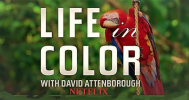 Das Leben in Farbe mit David Attenborough: With David Attenborough, Joerg Wiedenmann. Exploring the many ways animals use colour throughout their lives.
www.imdb.com
SERIES INFO
Genre
: Documentary Mini-Series
Stars
: -
Series Plot
: The natural world is full of colours. For us, they are a source of beauty, but for animals they are a tool for survival. David Attenborough reveals the extraordinary ways in which animals use colour: to win a mate, to fight off rivals and to warn enemies. In India, peacocks dazzle females with magnificent tail feathers- a tiny hummingbird in the deserts of North America unfurls his spectacular headdress as he dances for a mate- and in the darkness of a rainforest, powerful mandrill baboons signal their status with red and blue face masks, while tiny frogs warn of deadly poisons with brilliant colours.
Included subtitles
English, Arabic, Czech, Danish, German, Greek, Spanish, Spanish, Finnish, French, Hebrew, Croatian, Hungarian, Indonesian, Italian, Japanese, Korean, Malay, Norwegian, Bokmal, Dutch, Polish, Portuguese, Portuguese, Romanian, Russian, Swedish, Thai, Turkish, Vietnamese, Chinese
-----------------------------------------------------------------------------------
SCREENSHOTS
(Click to enlarge)
SEASON 1
Hidden content
You need to react to this post in order to see this content.