Kraftwerk – Discography (1970-2008)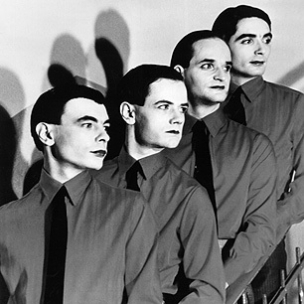 Kraftwerk is a German band from electronic music formed by Ralf Hütter and Florian Schneider in 1970 in Düsseldorf, and led by them to the departure of Schneider in 2008.
The characteristic sound of Kraftwerk combines repetitive rhythms with catchy melodies, mainly following a Western classical style of harmony, with instrumentation minimalistic and strictly electronic. The simplified lyrics are at times Sung through a vocoder or generated by a speech synthesizer. Kraftwerk was one of the first groups in popular electronic music and they are considered pioneers in the area.
In the 1970s and early 1980s, the distinctive sound of Kraftwerk was revolutionary, and has had a lasting effect across many genres of modern music. According to The Observer, "no other band since The Beatles has given so much to pop culture" and a wide range of artists have been influenced by their music and image. In January 2014, of the Grammy Academy honored Kraftwerk with a Lifetime Achievement Award.
Kraftwerk, after their first experimental albums, in 1974 became famous around the world with Autobahn whose twenty-two minute song showed their confidence with synthesizers. Then followed three very influential albums for pop music: Radio-Activity (1975), Trans-Europe Express (1977), and The Man-Machine (1978).
Kraftwerk is one of the first groups to use only electronic instruments, even processed with a Vocoder or generated with a vocal synthesizer many letters to intensify the prophetic tone of their sound.
Members:
Ralf Hütter
Florian Schneider
Fritz Hilpert
Henning Schmitz
Falk Grieffenhagen
MP3 320 kbps
Size: 2445.4 MB
Albums:
1970 – Kraftwerk
1970 – Tone Float (Organisation) (Unofficial)
1972 – Kraftwerk 2
1973 – Ralf & Florian
1974 – Autobahn
1975 – Radio-Activity (English Version)
1975 – Radio-Aktivitat (Deutsch Version)
1977 – Trans-Europe Express (English Version)
1977 – Trans Europa Express (Deutsch Version)
1978 – Die Mensch-Maschine (Deutsch Version)
1978 – The Man-Machine (English Version)
1981 – Computerwelt (Deutsch Version)
1981 – Computer World (English Version)
1986 – Electric Cafe (Deutsch Version)
1986 – Electric Cafe (English Version)
1991 – The Mix (Deutsch Version)
1991 – The Mix (English Version)
2003 – Tour De France
2005 – Minimum-Maximum (Live)
2008 – Greatest Hits
Kod:
http://uploaded.net/f/jg1vdk