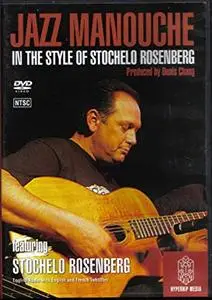 Jazz Manouche - In the style of Stochelo Rosenberg
WEBRip | English | AVI | 720 x 480 | AVC ~2502 kbps | 29.970 fps
MP3 320 Kbps 48.0 KHz | 2 channels | 03:04:35 | 3.65 GB
Genre: eLearning Video / Guitar lesson
The second section is divided into two parts. "Rhythm Overview" is where Stochelo gives valuable insight into his approach to rhythm playing. Stochelo demonstrates good and bad rhythm as well as his approach to bossa, rumba, waltz, rumba-waltz and bolero rhythms.​
Proper chord shapes and sequences are shown for four songs. Finally in "Lead Guitar", Stochelo deals with vibrato and right-hand technique before explaining his personal technique. He then clearly demonstrates 29 phrases and 2 endings. All phrases are initially played at tempo and are then clearly demonstrated for the viewer.
This DVD follows the traditional gypsy method of instruction. No tab is provided and students are encouraged to learn by watching and repeating. Alternate close-up angles are provided for more in-depth analysis. Careful placement of chapter markers allows the viewer to repeat phrases precisely. The total running time for the DVD is over 3 hours.
DOWNLOAD
nitroflare
Kod:
http://nitroflare.com/view/53ACB976F276767/4vcNiKxt_JazzManoucheInthestyleofStocheloRosenberg.part1.rar
http://nitroflare.com/view/D3401E17DF7AFBC/4vcNiKxt_JazzManoucheInthestyleofStocheloRosenberg.part2.rar
http://nitroflare.com/view/FC3CE027F2D6118/4vcNiKxt_JazzManoucheInthestyleofStocheloRosenberg.part3.rar
http://nitroflare.com/view/162FF0D4A433F93/4vcNiKxt_JazzManoucheInthestyleofStocheloRosenberg.part4.rar
http://nitroflare.com/view/8137889480BB419/4vcNiKxt_JazzManoucheInthestyleofStocheloRosenberg.part5.rar
http://nitroflare.com/view/605B79BB3D98B04/4vcNiKxt_JazzManoucheInthestyleofStocheloRosenberg.part6.rar
http://nitroflare.com/view/1360259A6278F4F/4vcNiKxt_JazzManoucheInthestyleofStocheloRosenberg.part7.rar
http://nitroflare.com/view/551118D6CF5842F/4vcNiKxt_JazzManoucheInthestyleofStocheloRosenberg.part8.rar