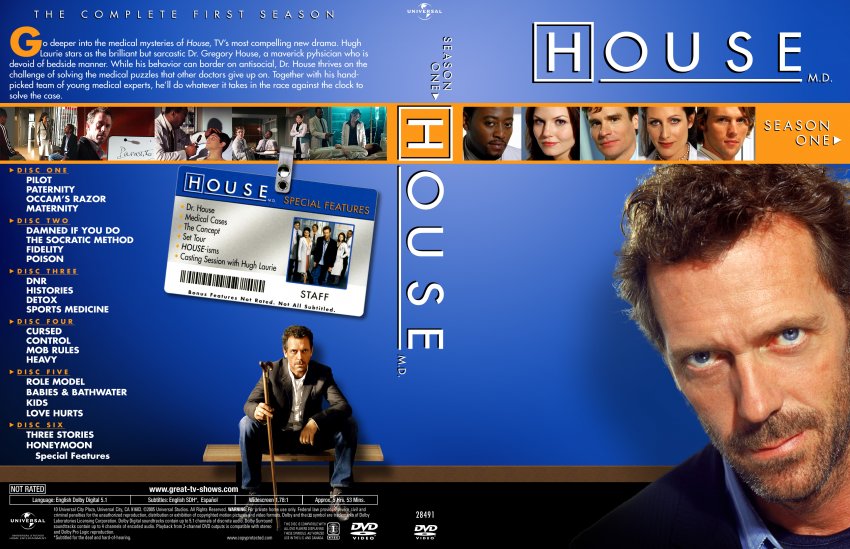 http://www.imdb.com/title/tt0412142/
The series follows the life of anti-social, pain killer addict, witty and arrogant medical doctor Gregory House with only half a muscle in his right leg. He and his team of medical doctors try to cure complex and rare diseases from very ill ordinary people in the United States of America.
https://en.wikipedia.org/wiki/House_(TV_series)
House
(also called
House, M.D.
) is an American television
medical drama
that originally ran on the
Fox
network for eight seasons, from November 16, 2004 to May 21, 2012. The series' main character is
Dr. Gregory House
(
Hugh Laurie
), an unconventional,
misanthropic
medical genius who, despite his dependence on pain medication, leads a team of
diagnosticians
at the fictional Princeton–Plainsboro Teaching Hospital (PPTH) in
New Jersey
. The series' premise originated with
Paul Attanasio
, while
David Shore
, who is credited as creator, was primarily responsible for the conception of the title character. The series' executive producers included Shore, Attanasio, Attanasio's business partner
Katie Jacobs
, and film director
Bryan Singer
. It was filmed largely in
Century City
.
House often clashes with his fellow physicians, including his own diagnostic team, because many of his hypotheses about patients' illnesses are based on subtle or controversial insights. His flouting of hospital rules and procedures frequently leads him into conflict with his boss, hospital administrator and Dean of Medicine
Dr. Lisa Cuddy
(
Lisa Edelstein
). House's only true friend is
Dr. James Wilson
(
Robert Sean Leonard
), head of the Department of
Oncology
. During the first three seasons, House's diagnostic team consists of
Dr. Robert Chase
(
Jesse Spencer
),
Dr. Allison Cameron
(
Jennifer Morrison
), and
Dr. Eric Foreman
(
Omar Epps
). At the end of the
third season
, this team disbands. Rejoined by Foreman, House gradually selects three new team members:
Dr. Remy "Thirteen" Hadley
(
Olivia Wilde
),
Dr. Chris Taub
(
Peter Jacobson
), and
Dr. Lawrence Kutner
(
Kal Penn
). Kutner makes an appearance late in
season five
and then reappears in season 8 episode 22. Chase and Cameron continue to appear in different roles at the hospital until early in
season six
. Cameron then departs the hospital, and Chase returns to the diagnostic team. Thirteen takes a leave of absence for most of
season seven
, and her position is filled by medical student
Martha M. Masters
(
Amber Tamblyn
). Cuddy and Masters depart before
season eight
; Foreman becomes the new Dean of Medicine, while
Dr. Jessica Adams
(
Odette Annable
) and
Dr. Chi Park
(
Charlyne Yi
) join House's team.
House
was among the top 10 series in the United States from its second through
fourth seasons
. Distributed to 66 countries,
House
was the most-watched television program in the world in 2008.
[2]
The show received
numerous awards
, including five
Primetime Emmy Awards
, two
Golden Globe Awards
, a
Peabody Award
, and nine
People's Choice Awards
. On February 8, 2012, Fox announced that the eighth season, then in progress, would be its last.
[3]
The series finale aired on May 21, 2012, following an hour-long retrospective.
Gregory House
,
M.D.
, often construed as a
misanthropic
medical genius, heads a team of
diagnosticians
at the Princeton-Plainsboro
Teaching Hospital
in
New Jersey
.
[72]
Most episodes revolve around the diagnosis of a primary patient and start with a
precredits scene
set outside the hospital, showing events ending with the onset of the patient's symptoms.
[18]
The typical episode follows the team in their attempts to diagnose and treat the patient's illness,
[78]
[82]
which often fail until the patient's condition is critical.
[78]
They usually treat only patients whom other doctors have not accurately diagnosed,
[69]
and House routinely rejects cases that he does not find interesting.
[18]
The story lines tend to focus on his unconventional medical theories and practices, and on the other characters' reactions to them, rather than on the details of the treatments.
[4]
The team employs the
differential diagnosis
method,
[82]
listing possible
etiologies
on a
whiteboard
, then eliminating most of them, usually because one of the team (most often House) provides logical reasons for ruling them out.
[83]
Typically, the patient is
misdiagnosed
at least once and accordingly receives some treatments that are at best useless;
[82]
this usually causes further
complications
, but—as the nature of the complications often provides valuable new evidence—eventually these help them diagnose the patient correctly.
[18]
House often tends to arrive at the correct diagnosis seemingly out of the blue, often inspired by a passing remark made by another character.
[82]
Diagnoses range from relatively common to very
rare diseases
.
[84]
The team faces many diagnostic difficulties from patients' concealment of symptoms, circumstances, or personal histories, so House frequently proclaims during the team's deliberations, "The patient is lying", or mutters "Everybody lies"; such an assumption guides House's decisions and diagnoses,
[10]
and makes the countermeasure of
housebreaking
a routine procedure. Because many of his hypotheses are based on
epiphanies
or controversial insights, he often has trouble obtaining permission for medical procedures he considers necessary from his superior, who in all but the final season is hospital administrator
Dr. Lisa Cuddy
.
[85]
This is especially the case when the proposed procedures involve a high degree of risk or are
ethically
questionable. Frequent disagreements occur between House and his team,
[86]
especially
Dr. Allison Cameron
, whose standards of medical ethics are more conservative than those of the other characters.
[78]
Like all of the hospital's doctors, House is required to treat patients in the facility's
walk-in clinic
.
[72]
[87]
His grudging fulfillment of this duty, or his creative methods of avoiding it, constitute a recurring
subplot
, which often serves as the series'
comic relief
.
[78]
[88]
During clinic duty, House confounds patients with unwelcome observations into their personal lives, eccentric prescriptions, and unorthodox treatments.
[72]
However, after seeming to be inattentive to their complaints, he regularly impresses them with rapid and accurate diagnoses.
[16]
Analogies with some of the simple cases in the clinic occasionally inspire insights that help solve the team's case.
[18]
[89]
"It's not a show about addiction, but you can't throw something like this into the mix and not expect it to be noticed and commented on. There have been references to the amount of his consumption increasing over time. It's becoming less and less useful a tool for dealing with his pain, and it's something we're going to continue to deal with, continue to explore."
—Shore on House's
Vicodin
addiction
[90]
A significant plot element is House's use of
Vicodin
to manage pain, caused by an
infarction
in his
quadriceps muscle
five years before the show's first season, which also forces him to use a cane.
[91]
In the first season, 11th episode "Detox", House admits he is addicted to Vicodin, but says he does not have a problem because the pills "let me do my job, and they take away my pain".
https://en.wikipedia.org/wiki/House_(TV_series)#endnote_Bnone
His addiction has led his colleagues, Cuddy and Dr. James Wilson, to encourage him to go to drug rehabilitation several times.[92] When he has no access to Vicodin or experiences unusually intense pain, he occasionally self-medicates with other narcotic analgesics such as morphine,[93] oxycodone,[94] and methadone.[95] House also frequently drinks liquor when he is not on medical duty, and classifies himself as a "big drinker".[96] Toward the end of season five, House begins to hallucinate; after eliminating other possible diagnoses, Wilson and he determine that his Vicodin addiction is the most likely cause.[97] House goes into denial about this for a brief time, but at the close of the season finale, he commits himself to Mayfield Psychiatric Hospital.[98] In the following season's debut episode, House leaves Mayfield with his addiction under control.[99] However, about a year and a half later, in season seven's 15th episode, "Bombshells", House reacts to the news that Cuddy possibly has kidney cancer by taking Vicodin,[100] and his addiction recurs.[101]
Poslednja izmena: