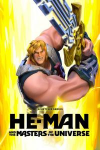 He-Man and the Masters of the Universe: Created by Robert David. With Antony Del Rio, David Kaye, Kimberly Brooks, Grey Griffin. Eternia's Prince Adam discovers the power of Grayskull and transforms into He-Man, Master of the Universe. A reimagining of the classic animated series.
www.imdb.com
Genre:
Animation, Action, Adventure, Family, Fantasy, Sci-Fi
Runtime:
n/A -
Rating:
n/A
Director:
n/A
Cast:
Kimberly Brooks
,
Antony Del Rio
,
Trevor Devall
…
Plot:
In Eternia, the first planet of creation, a demonic tyrant rises: Skeletor. With dark armies at his command, Skeletor is on the march, hell-bent on capturing Eternia's kingdoms, and its ultimate prize Castle Grayskull, the ancient fortress of mystery said to contain the greatest power in the universe. It's up to He-Man, voiced by Yuri Lowenthal, and his brave squad of rookie heroes to stop Skeletor and restore the peace. Both sides come armed with enchanted Power Weapons transforming them into Masters of the Primal Powers of the Universe. It's Master vs. Dark Master, He-Man vs. Skeletor fighting for control of Eternia, Castle Grayskull, and the fate of us all. In the end, who will become Master of the Universe?
Genre
: Action Animation Children Fantasy
Stars
: Yuri Lowenthal, David Kaye, Grey DeLisle-Griffin, Antony Del Rio, Kimberly D. Brooks, Trevor Devall, Judy Alice Lee, Roger Craig Smith, Fred Tatasciore, Ben Diskin
Series Plot
: Mighty teen Adam and his heroic squad of misfits discover the legendary power of Grayskull — and their destiny to defend Eternia from sinister Skeletor.
(Click to enlarge)
SEASON 1
Hidden content
You need to react to this post in order to see this content.
Poslednja izmena: