Učlanjen(a)

14.04.2013
Poruka

11.330
Harry and Snowman (2015) 720p BluRay x264-SADPANDA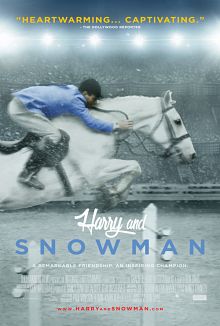 IMDB Rating: 8.5/10 from 58 users
Kod:
http://www.imdb.com/title/tt2898306/
Plot: Dutch immigrant, Harry deLeyer, journeyed to the United States after World War II and developed a transformative relationship with a broken down Amish plow horse he rescued off a slaughter truck bound for the glue factory. Harry paid eighty dollars for the horse and named him Snowman. In less than two years, Harry & Snowman went on to win the triple crown of show jumping, beating the nations blue bloods and they became famous and traveled around the world together. Their chance meeting at a Pennsylvania horse auction saved them both and crafted a friendship that lasted a lifetime. Eighty-six year old Harry tells their Cinderella love story firsthand, as he continues to train on today's show jumping circuit
Genre: Documentary | Biography | Drama | Sport
Directed by: Ron Davis
Starring: Harry DeLeyer, Harriet DeLeyer, Andre DeLeyer
Release Name: Harry.and.Snowman.2015.720p.BluRay.x264-SADPANDA
Size: 2.6 GB
Video: MKV | 1280×720 | 4,115 Kbps
Audio: English | AC3 | 448 Kbps
Runtime: 1 h 22 min
Subtitles: N/A
Samples: Video @ #1 – #2 – #3



Links can be combined!
Kod:
http://uploaded.net/file/thmdlig0/H-R-S.2015.720p.BluRay.x264-SADPANDA.part1.rar
http://uploaded.net/file/04012558/H-R-S.2015.720p.BluRay.x264-SADPANDA.part2.rar
http://uploaded.net/file/odluryjs/H-R-S.2015.720p.BluRay.x264-SADPANDA.part3.rar
http://uploaded.net/file/ucpiglit/H-R-S.2015.720p.BluRay.x264-SADPANDA.part4.rar

http://www.filefactory.com/file/5c3bf3kb233d/H-R-S.2015.720p.BluRay.x264-SADPANDA.part1.rar
http://www.filefactory.com/file/5rz02u21omhl/H-R-S.2015.720p.BluRay.x264-SADPANDA.part2.rar
http://www.filefactory.com/file/43slj4m6itod/H-R-S.2015.720p.BluRay.x264-SADPANDA.part3.rar
http://www.filefactory.com/file/19685rs1f7iv/H-R-S.2015.720p.BluRay.x264-SADPANDA.part4.rar

http://rg.to/file/c7c2780c0ca04e93b93e0c9489d1bb5a/H-R-S.2015.720p.BluRay.x264-SADPANDA.part4.rar.html
http://rg.to/file/4acff26c489ff00ba24929d866174206/H-R-S.2015.720p.BluRay.x264-SADPANDA.part3.rar.html
http://rg.to/file/93ec47db5d6c3bd955ed5992187711f1/H-R-S.2015.720p.BluRay.x264-SADPANDA.part2.rar.html
http://rg.to/file/93ff4e135e7735069fde073e12382e18/H-R-S.2015.720p.BluRay.x264-SADPANDA.part1.rar.html