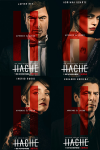 Hache
is a Spanish
crime drama
streaming television
series created by Verónica Fernández.
[1]
The series is set in the world of
drug trafficking
in the
Barcelona
of the 60s,
[2]
and it stars
Adriana Ugarte
, along with
Eduardo Noriega
, and
Javier Rey
.
[2]
The first season is composed of 8 episodes of one hour,
[2]
and became available for
streaming
worldwide on
Netflix
on 1 November 2019.
[2]
On 21 November 2019 it was confirmed that the series had been renewed for a second season,
[3]
which premiered on 5 February 2021.