Učlanjen(a)

01.05.2019
Poruka

106.187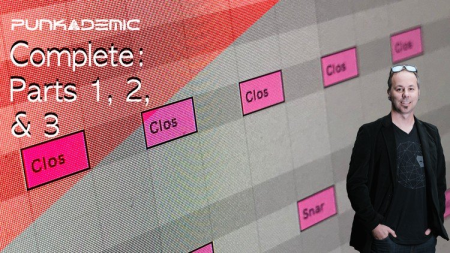 Bestseller | h264, yuv420p, 1280x720 |ENGLISH, aac, 44100 Hz, 2 channels | 9h 19mn | 5.3 GB
Build Better Beats through drum programming patterns and style tips including hip hop drum programming and much more!​
What you'll learn
At the completion of this class, students will understand and be able to use basic beat patterns, talk about beat rhythms, and build unique and progressive beats from their own sample libraries (which they will get from this course).
The 6 keys to understanding meter and pulse
The 3 most important elements of the drum pattern
The 5 keys to a drum groove with "feel"
The most important elements to the "basic pattern"
The top 5 reasons to add "swing" to your patterns
Requirements
Students should be comfortable with an audio sequencing application (Ableton Live, Pro Tools, Logic, FL Studio, Fruity Loops, etc.) Any audio sequencer will work.
Students should be ready to make tracks using beats!
Sample libraries are not required. Samples will be provided.
Students do not need to know how to read music, rhythms, or any music theory.
Description
** Udemy Top Seller ** Courses by this instructor are consistently listed in Top Selling Music Courses.
This is a class designed for music producers who are ready to get serious about drum programming. The art of programming drums on a MIDI grid, in drum machines, or with audio files can be tricky to master, but when you finish this class, your tracks will have the extra energy that comes from professional drum tracks.
Dr. Allen is a professional musician, top-rated Udemy instructor, and university professor. In 2017 the Star Tribune featured him as a "Mover and a Shaker," and he is recognized by the Grammy Foundation for his music education classes.
I'll be using Ableton Live and some Logic in this course, but it will be easy to following along on whatever program you are most comfortable with. We will start the class off with basic rhythm theory, and learning where (typically) we put the kick, the snare, and the hi-hats. Then we will learn to adapt that pattern to work for a number of different styles.
DOWNLOAD
nitroflare
Kod:
http://nitroflare.com/view/C9FBEBDAC270143/h5Uk1UjK__Drum_Progr.part1.rar
http://nitroflare.com/view/2021D179A483866/h5Uk1UjK__Drum_Progr.part2.rar
http://nitroflare.com/view/ED8896215C2B2E7/h5Uk1UjK__Drum_Progr.part3.rar
http://nitroflare.com/view/64E7EAF7D82C716/h5Uk1UjK__Drum_Progr.part4.rar
http://nitroflare.com/view/A3198FC19477820/h5Uk1UjK__Drum_Progr.part5.rar
http://nitroflare.com/view/83F0E274D529E70/h5Uk1UjK__Drum_Progr.part6.rar