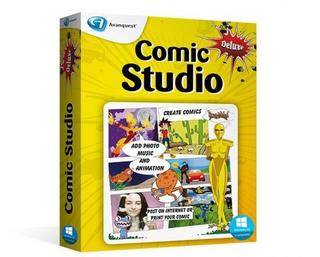 Create and animate your own comic strips! You no longer have to be a real pro to become a comic strip creator! With this powerful software, which is jam-packed with content and features, you will be amazed to see just how much you can conjure up with a bit of imagination! Comic Studio Deluxe is a version enhanced with the kind of content and features that make creating your own comic strips and mangas a piece of cake!
Maximum Content:
• More than 1,000 sets and characters in a whole host of poses
• Varied themes: cartoons, comics, children, mythology, etc.
• INCLUDED! A special Japanese manga collection for all reader profiles: Shônen (ninja), Shôjo (romance), Seinen (action)
• Importing of your personal images (jpg, tiff, gif, png and bmp) and sound clips (MP3, WAV)
• Library of customisable onomatopoeias, speech bubbles and fonts
Maximum Features:
• Intuitive tools and interface: insertion of personal visuals and screenshots by simple click-and-drag, staging effects
• Retouching of your personal pictures and photos: corrections, artistic effects, filters, etc.
• Over 500 backgrounds and characters
• Clipping tools to easily insert all your images into sets
• Generation of PDFs and printing of boards
TORRENT
Hidden content
You need to react to this post in order to see this content.