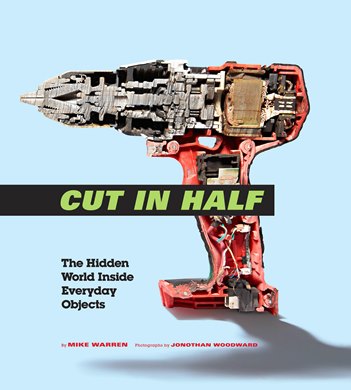 Cut in Half: The Hidden World Inside Everyday Objects
by Mike Warren and Jonothan Woodward
Chronicle Books | September 2018 | ISBN-10: 9781452168623 | 143 Pages | True PDF | 70.3 mb
Kod:
https://www.amazon.com/Cut-Half-Hidden-Everyday-Objects/dp/1452168628
What exactly is inside a laptop, a golf ball, a vacuum cleaner, or a novelty singing fish toy? The insides of these and dozens of other objects are revealed in this photographic exploration of the stuff all around us, exposed and explained. With the help of a high-pressure waterjet cutter able to slice through 4 inches of steel plate, designer and fabricator Mike Warren (creator of the popular Cut in Half YouTube channel) cuts into everything from boom boxes to boxing gloves, oil filters to seashells, describing and demystifying the inner workings and materials of each. With a cleverly die-cut case and gorgeously detailed photography, Cut in Half is a fascinating and accessible popular science look at the extraordinary in the everyday.
About the Authors
Mike Warren is a designer, inventor, and popular science writer steeped in maker culture whose work has been featured in Wired, the New York Times, Popular Scientist, CNET, and New Scientist. He lives in the San Francisco Bay Area.
Jonothan Woodward creates food, product, interior, and lifestyle images for a wide range of clients. He lives in the San Francisco Bay Area.
CONTENTS
8 INTRODUCTION
15 HOUSEHOLD APPLIANCES
16 Heating Fan 18 Hair Dryer 20 Clothing Steamer 22 Clothing Iron 24 Cordless Drill 26 Electric Kettle 28 Electric Popcorn Popper 30 Waffle Iron 32 Touch-Tone Telephone 34 Telephone Handset 36 Robotic Vacuum 38 Handheld Vacuum
41 SPORTS EQUIPMENT
42 Bowling Ball 44 Bowling Pin 46 Baseballs & Softballs 48 Golf Balls 50 Golf Club Drivers 52 Fishing Reel 54 Isometric Exercise Equipment 56 Sports Cleats 58 Boxing Gloves
61 ELECTRONICS
62 Digital Camera 64 DSLR Camera 66 LED Light Bulb 68 Electric Massager 70 Audio Cassette Recorder 72 Video Cassette Recorder 74 Two-Way Radios 76 PC Graphics Card 78 Video Streaming Device 80 Laptop Computer 82 Powered Speakers 84 Wireless Headphones 86 Studio Microphone 88 Guitar Effects Pedal 90 Boom Box
93 TOYS AND GAMES
94 Video Game Console 96 Gaming Joystick 98 Furry Animatronic Toy 100 Novelty Singing Fish 102 Foam Dart Gun 104 Guitar Game Controller 106 Handheld Electronic Game 108 Nesting Dolls 110 Fortune-Telling Eight Ball
113 OTHER STUFF
114 Electric Stapler 116 Electric Pencil Sharpener 118 Padlock 120 Giant Jawbreaker 122 Liquid Fuel Lighter 124 Spark Plug 126 Oil Filter 128 Motorcycle Helmet 130 Paper Shredder 132 Binoculars 134 Tree Cones 136 Geodes 138 Seashells 140 ABOUT THE AUTHOR AND
PHOTOGRAPHER
140 ACKNOWLEDGMENTS
Kod:
http://nitroflare.com/view/8CEA0DFB8519022/Cut_in_Half.rar
Kod:
https://rapidgator.net/file/37f4a7db1c6d47c9a54ef207e03d2062/Cut_in_Half.rar.html
...