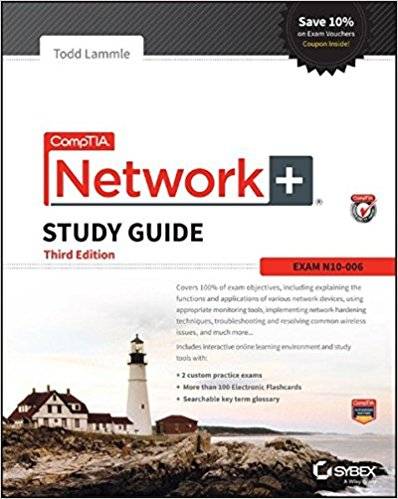 Todd Lammle, "CompTIA Network+ Study Guide: Exam N10-006, 3rd Edition"
ISBN: 1119021243 | 2015 | EPUB/PDF/AZW3 | 960 pages | 30 MB/22 MB/24 MB
Covers 100% of exam objectives, including explaining the functions and applications of various network devices, using appropriate monitoring tools, implementing network hardening techniques, troubleshooting and resolving common wireless issues, and much more.
Includes interactive online learning environment and study tools with:
2 custom practice exams
More than 100 Electronic Flashcards
Searchable key term glossary
Your complete guide to preparing for CompTIA Network+ Exam N10-006
The CompTIA Network+ Study Guide, 3rd Edition is your one-stop resource for complete coverage of Exam N10-006. This Sybex Study Guide covers 100% of all exam N10-006 objectives. You'll prepare for the exam smarter and faster with Sybex thanks to superior content including, assessment tests that check exam readiness, objective map, real-world scenarios, hands-on exercises, key topic exam essentials, and challenging chapter review questions. Reinforce what you have learned with the exclusive Sybex online learning environment and test bank, accessible across multiple devices. Get prepared for the CompTIA Network+ exam with Sybex.
Coverage of 100% of all exam objectives in this Study Guide means you'll be ready for:
Comparing and contrasting the use of networking services and applications
Installing and configuring network services/applications
Analyzing metrics and reports from monitoring and tracking performance tools
Using appropriate resources to support configuration management
Comparing and contrasting common network vulnerabilities and threats
Installing and configuring a basic firewall
Summarizing basic forensic concepts
Implementing network troubleshooting methodology
Troubleshooting and resolving common copper cable issues
Troubleshooting and resolving common network issues
Analyzing and determining the correct OSI layer
Explaining the basics of network theory and concepts
Summarizing safety practices
Installing and configuring equipment in the appropriate location using best practices
Interactive learning environment
Take your exam prep to the next level with Sybex's superior interactive online tools. To access the learning environment, simply visit:
http://sybextestbanks.wiley.com
, type in your unique PIN and instantly gain access to:
Interactive test bank with 2 practice exams. Practice exams help you identify areas where further review is needed. Get more than 90% of the answers correct, and you're ready to take the certification exam. 100 questions total!
More than 100 Electronic Flashcards to reinforce learning and provide lastminute prep before the exam
Comprehensive glossary in PDF format that gives you instant access to the key terms so you are fully prepared
http://nitroflare.com/view/FB58C7A6DC5C3F0/1119021243.epub
http://nitroflare.com/view/62E0D8AAB240753/1119021243.pdf
http://nitroflare.com/view/2FD90301746AA9C/B00XA5GYXY.azw3
https://rg.to/file/ee9acb43ef5c362eb2146e05ff4c1428/B00XA5GYXY.azw3.html
https://rg.to/file/04050e070bf4bdf2331ed6b05935d8ac/1119021243.epub.html
https://rg.to/file/3964bdc57fab25d85f5732b9807f8510/1119021243.pdf.html
...