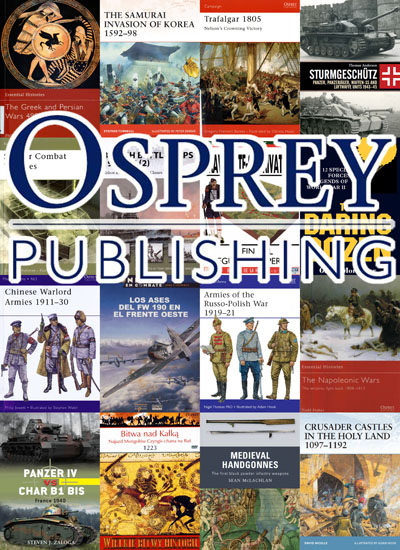 Collection of Osprey Publishing Books [1980-2020] (Updated 2020/01/21)
English, French, Polish, Spanish | 1980-2020 | 3392 books | PDF/DJVU | 71 GB
Osprey Publishing
is an Oxford-based publishing company specializing in military history. Predominantly an illustrated publisher, many of their books contain full-colour artwork plates, maps and photographs, and the company produces over a dozen ongoing series, each focusing on a specific aspect of the history of warfare. Osprey has published over 2,300 books. They are best known for their Men-at-Arms series, running to over 500 titles, with each book dedicated to a specific historical army or military unit. Osprey is an imprint of Bloomsbury Publishing.
Series
Air Vanguard
- Launched in Autumn 2012, it is the technical aviation series whose books give a concise history of an aircraft's design and operational history.
Aircraft of the Aces
- A series that focuses on fighter pilots who became aces with first-hand accounts, aircraft profiles, unit listings, and scale plans.
Aviation Elite Units
- Provides a full combat history of a fighter or bomber unit that earned particular distinction in action with first hand accounts, stories of the unsung heroes of each unit, and specially commissioned aircraft profile drawings and illustrations.
Battle Orders
- details the organization of famous military units.
Campaign
- individual battles or campaigns in military history.
Combat
- a new series detailing the differences between soldiers in the field.
Combat Aircraft
- Concentrates on one of the greatest aircraft in aviation history, the technology behind it, and the men who flew it.
Command
- details the lives of important generals and admirals.
Dark Osprey
- a comedic series detailing paranormal topics such as Nazi zombies and alien invasions.
Duel
- comparing contemporary opponents, such as French and British frigates in the age of sail or German and Soviet tanks on the Eastern Front.
Elite
- details individual units or tactics.
Essential Histories
- Each book studies the origins, politics, fighting, and repercussions of one major war or theatre of war, from both military and civilian perspectives.
Fortress
- details important fortifications from Roman forts to Hitler's bunkers to the Berlin Wall.
Men-at-Arms
- An illustrated reference on the history, organisation, uniforms, and equipment of the world's military forces, past and present.
Myths and Legends
- Examines the great stories that have echoed down through time to help shape our cultures. Each title focuses on a specific legendary figure retelling the related myth and also provides interesting, factual information about the history behind the story and its evolution over time.
New Vanguard
- approx 200 books on military equipment such as vehicles, artillery, and ships
Osprey Wargames
- a series of wargaming rules.
Osprey Modelling
- how-to guide to military model making.
Raid
- details about famous military raiding actions or daring plans.
Warrior
- focuses on the individual warrior of a specific period or culture, examining his experiences on the battlefield as well as his training, fighting methods and day to day living.
Weapon
- discusses individual weapons from sidearms to artillery.
Check Osprey booklist here:
Kod:
https://nitro.download/view/245108036248B6E/Osprey_booklist.pdf
https://rapidgator.net/file/6abec1cd430b55563ebe372b63437bdb/Osprey_booklist.pdf.html
Download links
Hidden content
You need to react to this post in order to see this content.
Hidden content
You need to react to this post in order to see this content.
Poslednja izmena: