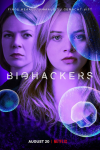 Biohackers: Created by Christian Ditter. With Luna Wedler, Jessica Schwarz, Adrian Julius Tillmann, Caro Cult. A fast-paced thriller following medical student Mia Akerlund who discovers the use of highly advanced biohacking technology in her university town.
www.imdb.com
SERIES INFO
Genre
: Drama Science Fiction Thriller
Stars
: Luna Wedler , Thomas Prenn, Adrian Julius Tillmann, Jing Xiang, Caro Cult, Sebastian Jakob Doppelbauer, Jessica Schwarz, Benno Fürmann, Zeynep Bozbay, Eleonore Daniel
Series Plot
: Mia goes to medical school to get close to a professor she suspects had a hand in her past family tragedy and gets tangled in the world of biohacking.
Included subtitles
English, Arabic, Chinese, Chinese, Croatian, Czech, Danish, Dutch, Spanish, Finnish, French, German, German, Greek, Hebrew, Hungarian, Indonesian, Italian, Japanese, Korean, Malay, Norwegian, Bokmal, Polish, Portuguese, Portuguese, Romanian, Russian, Spanish, Swedish, Thai
SEASON 1
Hidden content
You need to react to this post in order to see this content.