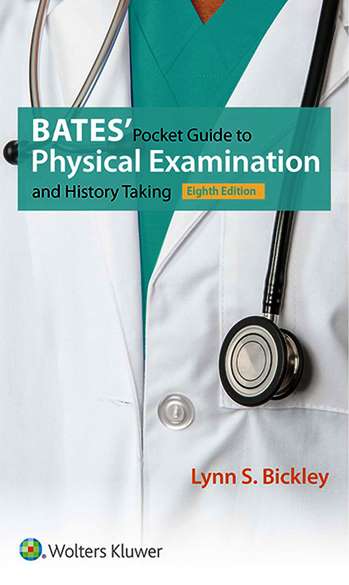 Bates' Pocket Guide to Physical Examination and History Taking (8th Ed)(North American edition)
by Lynn S. Bickley
LWW | October 2016 | ISBN-10: 9781496338488 | PDF | 432 Pages | 19.1 mb
https://www.amazon.com/Pocket-Physical-Examination-History-Taking/dp/1496338480
Bates' Pocket Guide to Physical Examination and History Taking includes illustrated, step-by-step techniques that outline the correct performance of the physical examination in an easy-to-follow two-column format featuring examination techniques on the left and abnormalities (clearly indicated in red) with differential diagnoses on the right. This highly regarded pocket guide also covers special stages in the life cycle-infancy through adolescence, pregnancy, and aging.
New to the eighth edition:
Text boxes help readers quickly find important summaries of clinical conditions and other relevant information.
Many new and updated photographs and illustrations support the text, and figures are now numbered for easy identification and reference.
Rewritten chapter on evaluating clinical evidence clarifies key concepts to ensure student understanding.
Revised and expanded chapter on the skin, hair, and nails includes new dermatology photographs and provides the framework for assessing common lesions and abnormalities.
Updated behavior and mental status chapter now references DSM-5.
Significantly revised information on obesity and nutrition counseling; cardiovascular risk factor screening and new clinical guidelines; new screening guidelines for breast cancer, colon cancer, Papanicolau smears, and stroke risk factors; current information on STIs; new geriatric assessment tools; and much more provide essential clinical updates.
New life-cycle content includes an increased emphasis on cardiovascular health promotion and child development; updated pregnancy topics such as weight gain, substance abuse, and intimate partner violence; and new information on the older adult, including frailty, immunizations, cancer screening, cognitive decline and dementia screening, and a new algorithm for falls prevention.
CONTENTS
Faculty Reviewers vi
Preface viii
CHAPTER 1 Foundations for Clinical Proficiency 1
CHAPTER 2 Evaluating Clinical Evidence 27
CHAPTER 3 Interviewing and the Health History 41
CHAPTER 4 Beginning the Physical Examination: General Survey, Vital Signs, and Pain 59
CHAPTER 5 Behavior and Mental Status 77
CHAPTER 6 The Skin, Hair, and Nails 89
CHAPTER 7 The Head and Neck 115
CHAPTER 8 The Thorax and Lungs 145
CHAPTER 9 The Cardiovascular System 167
CHAPTER 10 The Breasts and Axillae 187
CHAPTER 11 The Abdomen 199
CHAPTER 12 The Peripheral Vascular System 219
CHAPTER 13 Male Genitalia and Hernias 233
CHAPTER 14 Female Genitalia 247
CHAPTER 15 The Anus, Rectum, and Prostate 265
CHAPTER 16 The Musculoskeletal System 275
CHAPTER 17 The Nervous System 311
CHAPTER 18 Assessing Children: Infancy through Adolescence 349
CHAPTER 19 The Pregnant Woman 383
CHAPTER 20 The Older Adult 399
Index 423
http://nitroflare.com/view/6D9D638C...l_Examination_and_History_Taking_(8th_Ed).rar
https://rapidgator.net/file/73bfcff...mination_and_History_Taking_(8th_Ed).rar.html
...