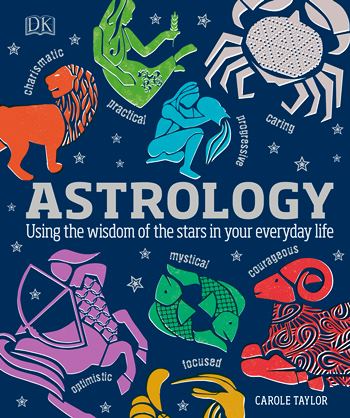 Astrology: Using the Wisdom of the Stars in Your Everyday Life
By DK/Ian Ridpath
DK | September 2018 | ISBN-10: 1465464131 | 258 Pages | True PDF | 42.5 mb
https://www.amazon.com/Astrology-Using-Wisdom-Stars-Everyday/dp/1465464131
How to use your astrological sign's birth horoscope to transform every area of your life.
Learn how to interpret the positions of the zodiac signs, sun, moon and other planets to better understand yourself and your place in the world around you.
The book outlines the key principles of astrology and pinpoints ways you can use it as a form of self-help. This ancient art can help you improve many different areas of your life-from your personal and professional relationships to your health, wealth, and well-being.
You'll also see how astrology can help you when you need it most, with practical advice about handling life's key moments, including changing jobs, starting a family, coping with financial difficulty, or facing retirement.
Written in plain language and with sample case studies and beautiful graphics, Astrology is your essential guide to navigating all of life's challenges and opportunities.
DK was founded in London in 1974 and is now the world's leading illustrated reference publisher and part of Penguin Random House, formed on July 1, 2013. DK publishes highly visual, photographic nonfiction for adults and children in more than 87 countries and 62 languages, with offices in Delhi, London, Melbourne, Munich, New York, and Toronto.
DK's aim is to inform, enrich, and entertain readers of all ages, and everything DK publishes, whether print or digital, embodies the unique DK design approach. DK brings unrivaled clarity to a wide range of topics with a unique combination of words and pictures, put together to spectacular effect.
CONTENTS
THE STORY OF ASTROLOGY 10
THE ZODIAC SIGNS 24
THE PLANETS 58
THE HOUSES 86
YOUR BIRTH CHART 116
UNDERSTANDING YOURSELF 152
LIFE EVENTS 196
Resources 244
Glossary 246
Index 248
Acknowledgments 256
TORRENT
Hidden content
You need to react to this post in order to see this content.
OR
MAGNET
Hidden content
You need to react to this post in order to see this content.
Iskopirati magnet link .....Otvoriti Utorrent...zatim "File"....odaberite "Add Torrent from URL"....tu ubacite iskopirani link...i to je to
Poslednja izmena: