Učlanjen(a)

11.10.2009
Poruka

56.591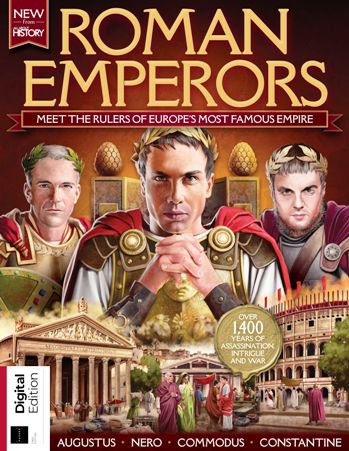 All About History: Roman Emperors - July 2019
English | 134 pages | PDF | 147 MB
The fighting had stopped. Years of civil war, death and betrayal had ended, and one man emerged victorious from the fray. The adopted son of the once-great Julius Caesar was bestowed the title of Augustus by the Senate, and he ushered in a new era of rule: the Roman Empire.
In All About History Roman Emperors, it's time to meet the people who were charged with leading one of the greatest civilisations of the ancient world. Uncover the depraved reigns of Caligula and Nero, go on a Christian crusade with Constantine, and meet the rulers of the East who kept the Roman Empire alive for over 1,000 years. So untangle the family trees, prepare for brutual assassinations and bloody coups, and decide for yourself who really was the greatest emperor of Ancient Rome.
CONTENTS
8 THE DYNASTIES OF THE ROMAN EMPIRE
1ST CENTURY
14 AUGUSTUS
18 TIBERIUS
20 CALIGULA
24 CLAUDIUS
28 NERO
34 YEAR OF THE FOUR EMPERORS
36 THE FLAVIANS
2ND CENTURY
42 TRAJAN
44 HADRIAN
46 ANTON IN US PIUS
48 MARCUS AURELIUS
54 COMMODUS
58 YEAR OF THE FIVE EMPERORS
3RD CENTURY
64 THE SEVERANS
66 THE CRISIS OF THE THIRD CENTURY
72 DIOCLETIAN AND MAXIM IAN
76 THE TETRARCHY
4TH CENTURY
82 CONSTANTINE THE GREAT
86 CONSTANTINE'S DYNASTY
94 THE VALENTINIANS
96 THE THEODOSIANS
5TH CENTURY
104 THE LAST DAYS OF THE WEST
110 THE BYZANTINE EMPIRE
116 BLOODY BYZANTINE EMPERORS
118 THE ROMAN EMPIRE'S LAST STAND
124 WHAT IF ROME NEVER FELL?
TORRENT
Hidden content
You need to react to this post in order to see this content.