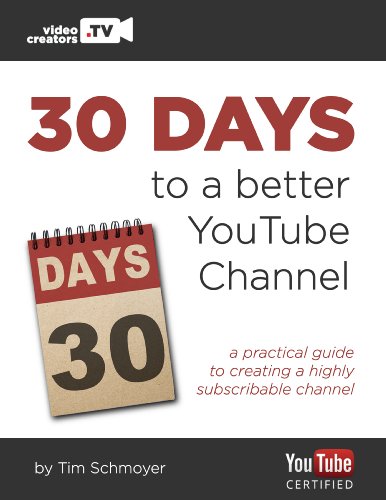 30 Days to a Better YouTube Channel - A practical guide to creating a highly subscribable channel by Tim Schmoyer
English | ASIN: B00IR0LE1O | 137 pages | PDF | 16.8 MB
Give me 30 Days and I'll give you a dramatically better YouTube channel, guaranteed!
Do you have big dreams for your channel? Do you have a list of improvements you'll make "later?" Are the number of people subscribing to your channel too low?
You're not alone.
This digital workbook is designed to help you revitalize your channel and transform it into a community you've always dreamed of, one step at a time.
WRITTEN TO MAKE YOU THINK AND DO
Each day in the workbook includes:
-- A Task: Something you can do right now on your YouTube channel.
-- A Teaching: In-depth instruction on both the why and the how of the task.
-- Further Reading: Links to other videos and web articles that help you dive deeper into the task.
Each day is designed to take you one step closer to creating a channel that entices new viewers to subscribe, interact, and become a loyal part of your channel's community.
WANT MORE FROM YOUR CHANNEL?
This book is for YouTube creators at different stages of their YouTube efforts:
-- You've just started a channel and don't know what to do next.
-- You've had a channel for a while, but it stalled in its growth.
-- You're experiencing a creative block and lacking inspiration.
-- You're growing, but want to take that growth to the next level.
Note: This workbook is not designed for YouTube creators who have not yet started a YouTube channel. It doesn't cover the very basics of creating a channel and such.
MANY SMALL STEPS TO BIG RESULTS
By the end of the this book you will have:
-- one of the best-optimized channels on YouTube.
-- created a strategy for increasing your channel's exposure.
-- deepened relationships with viewers who surround your channel.
-- and much, much more.
BOOK HIGHLIGHTS
-- This is a very practical, step-by-step guide to crafting your channel to be as sticky as possible for new viewers.
-- It teaches you to implement strategies that keep viewers coming back for more and regularly interacting with you and each other.
-- Ultimately, the training leads to momentum that becomes a growing and dedicated YouTube community that's making a difference in the world.
-- Many of my clients have implemented these strategies and tactics and experienced even more growth than I have! You can, too!
ABOUT THE AUTHOR
On March 2, 2006, Tim Schmoyer created his first YouTube channel and started making videos with the girl who later became his wife. Since then together they've created and published almost 2,000 YouTube videos, amassed millions of views, thousands of subscribers, and won YouTube video contests. Tim has worked with some of the country's top brands on YouTube and, in 2013, became officially certified by YouTube in "Audience Growth." They now live in Cincinnati, OH, with their four children.
http://nitroflare.com/view/B79C4BB1...to_creating_a_highly_subscribable_channel.rar
https://rapidgator.net/file/3cebd94...eating_a_highly_subscribable_channel.rar.html
...