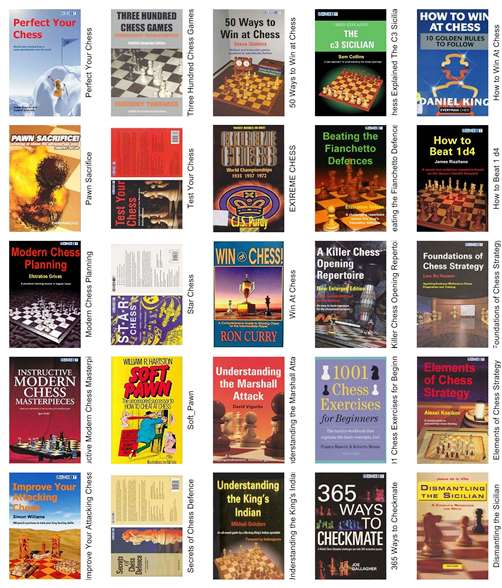 25 Chess Books
25 books | English | PDF | 285 MB
A collection of 25 chess books on PDF format. Most books published by GAMBIT & written by renowned GMs and IMs:
List of books:
50 Ways to Win at Chess
365 Ways to Checkmate
1001 Chess Exercises for Beginners
A Killer Chess Opening Repertoire
Beating the Fianchetto Defences
Chess Explained - The C3 Sicilian
Dismantling the Sicilian - A Complete Repertoire for White
Elements of Chess Strategy
EXIREME CHESS - C.J.S. PurdyAnnotates the World Championships
Foundations of Chess Strategy
How to Beat 1 d4
How to Win At Chess - 10 Golden Rules to Follow
Improve Your Attacking Chess
Instructive Modern Chess Masterpieces
Modern Chess Planning
Pawn Sacrifice
Perfect Your Chess
S.T.A.R. Chess
Secrets of Chess Defence
Soft Pawn
Test Your Chess - Assess and Improve Your Chess Skills
Three Hundred Chess Games
Understanding the King's Indian
Understanding the Marshall Attack
Win At Chess
http://nitroflare.com/view/61C596B4B180960/25_Chess_Books.rar
https://rapidgator.net/file/967fe7cb7ec44936d59841974efab523/25_Chess_Books.rar.html
...
Poslednja izmena: